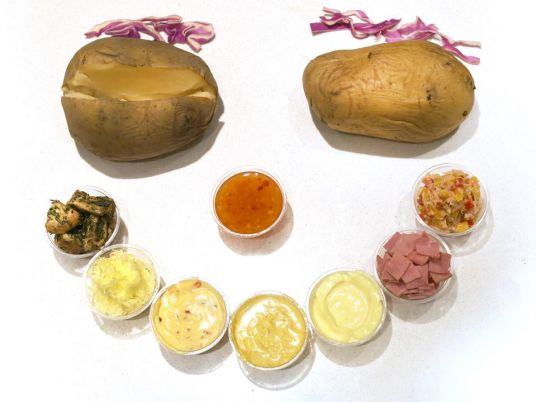 Tucked away in a corner off Brazil Street in Zamalek, a deliciously inviting smell wafted from a takeout spot, serving potatoes and only potatoes.
I could not resist taking a glimpse inside.
Simply Potatoes is a small bistro with cheerful ambience, gleaming from white painted walls and furniture.
The place is a part of a recently-opened mini-chain called 'Simply Food' introducing the single-dish trend to Cairenes.
The menu is pretty informative meant to facilitate clients' choice among more than hundred and fifty combinations served.
Those potatoes do come in a wide variety of forms: from baked potatoes and specialty cut chips to croquettes and sweet potatoes. While all the toppings you can imagine are available, a tailoring-your-own concept is also offered creating, undoubtedly, a personal indulgence to your favorite combinations.
The moment you step in, you are welcomed with two chefs standing in an open kitchen facing the bar sitting.
You can kick off with coating buffalo chicken tenders with ranch dressing wrapped in hot baked potatoes (LE 28). If you are a cheeseburger lover, give up the classic sandwich taste and try out the new mixture with baked potatoes (LE 30), while enjoy the same yummy toppings including ketchup, mustard and mayonnaise.
However, if you are afraid of increasing calorie intake, try out the baked potato with mushroom or chives or broccoli.
When it comes to croquette, New Delhi balls are strongly recommended. The curry sauce flavoring with peas carrots and onions, giving the mashed potatoes an Asian twist.
There are different cuts of potatoes for both deep fried and wedges, ranging from shoestring to baked herb ones, and a long list of dipping sauces to go with. Prices range from LE 15 to LE 17.
If you like to experience potatoes with unusual indulgence, go for Thai spices or creamy Tunisian harrissa sauces.
If you're down for spicy, go for the chili cheese fries, which is a unique choice (LE 24).
Finally, sweet potato is sure to make a statement whether topped with oreo cookie crumbs and whipped cream (LE 28) or cinnamon apple (LE 26).
A staff member recommended the hot Nutella-covered sweet potato with Häagen-Dazs ice cream (LE 57), and it was a treat! The contrast of hot Nutella and cold ice cream will certainly blow you away.
Despite of its moderate portion and reasonably expensive price, Simply Potatoes offers an experience that worth trying for its unique, tasty combinations.
The bistro delivers to the Downtown Cairo, Zamalek, Mohandiseen, Dokki and Agouza.