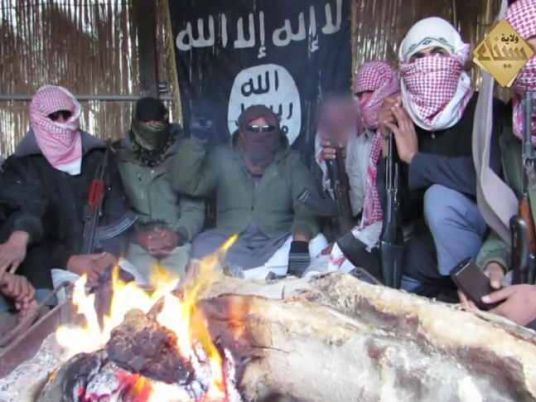 The US state department has placed Abou Osama al-Masry, the leader of the Islamic State-affiliated group Sinai Province, on its Terrorist Designation List under Executive Order 13224, according to a statement released on Friday.
The leader's real name is Mohamed al-Eissaway; he was formerly the terrorist group spokesperson, according to the statement. The former leader was Abou Da'aa al-Ansary who was killed in an airstrike by the Egyptian army in August 2016.
Al-Masry is believed to be the militant who released a statement for Sinai Province which claimed responsibility for the downing of the Russian Metrojet over the Sinai Peninsula in October 2015.
Moussa el-Dalh, a leader figure in North Sinai's prominent tribe al-Tarbiyeen, told Egypt Independent on Sunday: "His real name is Mohamed Ahmed al-Eissaway, aged between 37 to 42. He graduated from al-Azhar University and is believed to be stationed in the Gaza Strip."
Al-Masry is believed to have appeared with his face covered in a number of videos released by Sinai Province, speaking about the group's operations or threatening Egypt's state security forces.
He also appeared in footage of the group, formerly known as Ansar Beit al-Maqdis, declaring its affiliation to IS. He was shown leading the other militants in prayer.
Prominent al-Tarbiyeen tribesman, Ibrahim el-Argani, told Egypt Independent on Sunday: "We will arrest and kill him soon. We are chasing Abou Osama al-Masry and two other leading figures in the militant group. None of them will be able to escape."
In related news, Sinai Province mourned on Saturday the death of an affiliated Palestinian militant who was killed by the Egyptian army. The group said he was the nephew of the leader of Hamas affiliated militia Katem el-Qassam Raed al-Ataar.
The Palestinian joined Sinai Province some months ago, along with a number of other young Palestinians from the Gaza Strip, according to IS-affiliated media outlet Ibn Taymiyaah.
El-Argani added that several Palestinian militants were arrested during clashes with North Sinai tribes and state security who are conducting joint operations.
"The influx of militants from the Gaza Strip is becoming more prevalent; but I do not know whether they are related to Hamas militias," he said.