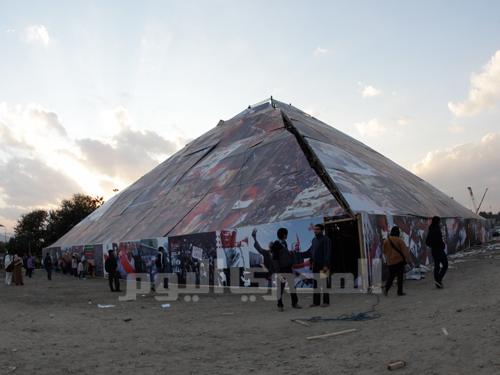 The IS affiliated group Sinai Province released on Tuesday photos of five civilians they decapitated and another they killed by shooting, all of them residents of North Sinai's Al-Arish.
Two of the victims were children and three elderly men, with the six kidnapped five days ago from Al-Arish.
Sinai Province accused the victims of working as informants for security apparatuses.
The photos showed their full names: The victims are Salem Saied Sobah and his son Saied, Shehata Hamed Selim, Mohamed Eid Abdon, Youssef Soliman Hani and Hussein Salem Soliman.
The Interior Ministry has not release any statement on the incident or offered any clarification on what happened and was not available for comment.
The incident comes as the group continues to carry out violent assaults against civilians in North Sinai.
The group, formerly known as Ansar Byat El Maqdus, pledged allegiance to IS in 2014.
Other photos released by the insurgents showed a number of the masked militants from the group distributing papers at a checkpoint in North Sinai that call on local residents to join or follow Sinai Province.
More photos showed a number of masked militants talking to residents of North Sinai, in what the group has called "advisory sessions," dialogue that the group said is to be for army informants who decided to stop work with security forces.
Since declaring its affiliation to IS, the group has intensified its attacks against the army and police forces that are based in North Sinai. The army is still conducting ongoing operations as part of its 'Martyrs Right' campaign to eliminate the presence of the group.
The group's cruelty reached its peak in February when numerous Coptic residents in North Sinai started to flee the governorate in the wake of an unprecedented wave of violence that included burning and slaughtering Copts and other civilians.
Sinai Province considers the army and police force as apostates as well as civilians who do not support the group.
The slaughter of elderly people is being conducted by Sinai Province on a regular basis — in November 2016 the group published photos that showed the decapitation of two elderly men. One man, Soliman Abu Heraz, from the El Sawrka tribe, was nearly 100-years-old.
Photos were not showed due to violent content