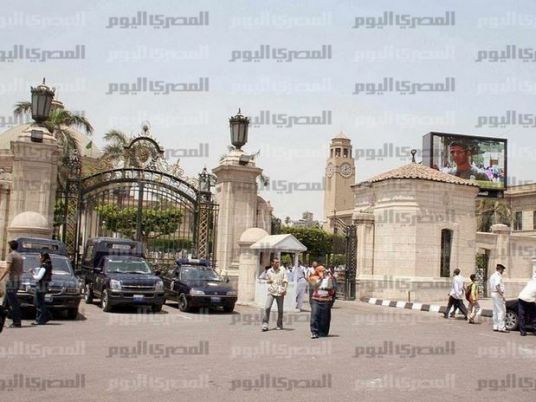 The IS affiliated-group 'Sinai Province' based in North Sinai vowed in a video message to target the Gaza strip-based militant movement Hamas.
In a 22-minute video released on media channels affiliated to 'Sinai Province', the group vowed in a unprecedented threat to target Hamas militants and said they consider the group to be apostates.
The footage, entitled 'Melat Ibrahim' (translated into the Denomination of Prophet Ibrahim,) one of the prominent members of 'Sinai Province' Abu Qasem El-Maqdesi, believed to be the religious legislator of the group, appeared in a desert area and accused Hamas of "infidelity." He also noted that Hamas has engaged in a security co-operation with Egyptian authorities against 'Sinai Province.'
He further said that Hamas is launching war against IS affiliated militants based in the besieged Palestinian Gaza strip, stressing that the group is exploiting "Jihad" to achieve political interests.
Abu Qasem addressed youth of the outlawed Muslim Brotherhood and called on them to engage in armed violence against the current government, criticizing the disavowal of the MB leaders from the armed attacks launched against the security forces.
"The apostates of the Muslim Brotherhood in Egypt pursued the false peace doctrine, sold the blood of their followers and challenged the jihad and its people, and behind them the Hamas gang pushed them into solitary confinement in prisons," he said.
In a different scene, Abu Qasem moved to talk amid a group of masked gunmen dressed in paramilitary clothes, alongside a gunman with black-hair and a face of Asian appearance. Before them all, a man was thrown to his feet wearing the death garb that IS routinely executes people in.
He said: "Here we are today, the ratification of words by deeds; the 'Sinai Province' court ruled to kill the apostate who helped the infidels in the fighting. This man called Musa Abu Zammat was in the ranks of the Mujahideen [part of Sinai Province], but he helped the infidels and handed over weapons to the apostates affiliated to the Izz al-Din al-Qassam Brigades (the military wing of Hamas.)
Then a young man standing beside Abu Qasem took a pistol out of his pocket and fired two bullets at the head of Abu Zammat, while the others yelled Allah Akubar.
Since 2013, Egyptian security forces have been engaged in violent clashes with 'Sinai Province,' previously known as Ansar Beit Al-Maqdis. In 2014, the group declared its affiliation with IS and has launched deadly attacks on army and police checkpoints, as well as churches and even a mosque frequented by Sufi Muslims.
Over the course of the last two years, the Egyptian Armed Forces have launched counterattacks against militant positions across the Sinai Peninsula where the group is based, particularly in the cities of Sheikh Zuweid, Rafah, and Al-Arish.