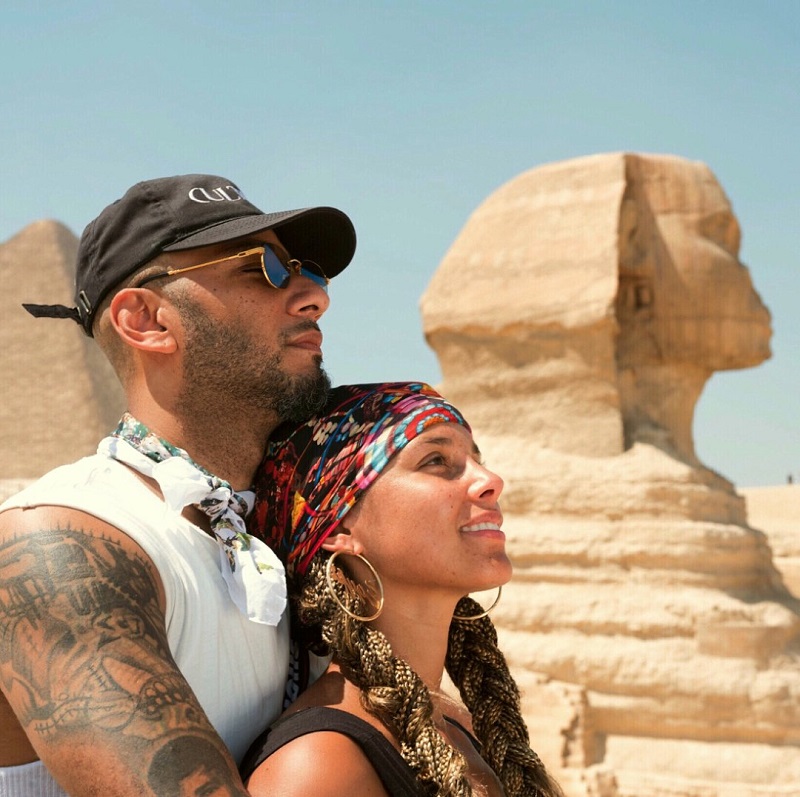 Egypt has been receiving a series of high profile visits over the the past year. From Oscar winners Hillary Swank, Nicolas Cage and Adrien Brody to footballers such as Real Madrid striker Karim Benzema and Barcelona's Lionel Messi alongside huge singers such as Usher, Egypt is slowly regaining its status as a primary tourist destination.
The latest celebrity to visit is singer Alicia Keys, who arrived in Egypt last week for a family visit along her husband, music producer Swizz Beatz, and their two children Gensis Ali Dean and Egypt Daoud Dean, who she named after a certain country she loved. The family documented their trip in their Instagram accounts, through photos and videos showing them not only enjoying the scenery but immersing themselves into the culture, even learning Arabic.
Keys posted about the trip on twitter, showing how great a time everyone is having having across the country.
"We have been Nesu and Nesa (Kings and Queens) for thousands of years! Greatness is in our DNA! Genius runs through our veins! This pic is exactly how I feel! Keep Shinin' powerful YOU!!" wrote Keys in a caption for her Instagram photo, right in front of the Pyramids.
Minister of Tourism Rania Al-Mashat welcomed Keys and her family in the country via her Twitter account, writing, "It's a pleasure welcoming the Grammy award-winning musician and iconic singer @AliciaKeys in #Egypt! We hope you and your family enjoy your visit and experience with us."
Instagram and Twitter posts between the singer and her husband seemed to alternate between Cairo, Luxor and Aswan, showing the family traveled far and wide across the country.
Keys is a 15-time Grammy Award winning singer, who made her career as an R&B and Hip Hop artist. She is listed on the Recording Industry Association of America (RIAA) Best Selling Artists for selling over 30 million albums worldwide. She was also ranked on Billboard as the fifth most successful artist of the 2000s.
Her husband, Beatz, is a Grammy award winning music producer who collaborated with stars such as iconic singer Whitney Houston, Jay-Z, Ludacris and Chris Brown. His first Grammy Award came in 2011, awarded in the category of Best Rap Performance by a Duo or Group for a track entitled "On to the Next One" teaming him with American rapper Jay-Z.