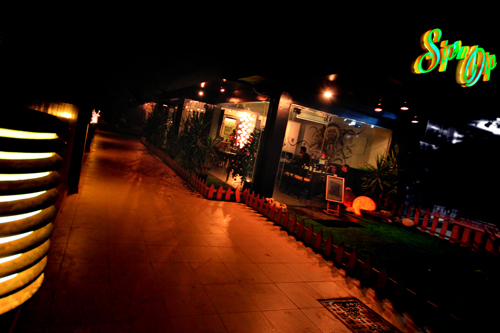 Sip'n Dip, a new addition to the growing food and entertainment venues around Omar Ibn al-Khattab Street in Heliopolis, opened last week.
The venue is small — just one area where all can be seen — and the menu consists of mini burgers and snacks, with plenty of dips for those who enjoy dipping their food. They also serve a killer lentil soup that's perfect for the cold weather.
The "sip" in Sip'n Dip are the restaurant's (non-alcoholic) cocktails, which consist of juice mixes and Red Bull or syrup combinations, as well as Oreo shakes and the like.
For me, the real palatable fun is the food. From sandwiches to spring rolls, each dish that comes out has its selection of dips — garlic, blue cheese, mustard and lemon are just a selection of the options. Sip'n Dip is also excited about its nacho cheese, a nice mixture of cheesy and spicy flavors.
As a reviewer, I found myself seesawing between salt and sugar, dipping onion rings in garlic and then turning to the chocolate fountain with a strawberry skewer. Patrons of Sip'n Dip will be able to order their own chocolate fountains at the table; whether or not that is a good thing depends on your body size and taste bud priority set.
Entertainment at Sip'n Dip seems a little slapdash. On opening evening, munchers were privy to an impressive beat performance by Malaleem, and apparently, there's some sort of activity planned almost nightly at Sip'n Dip.
The venue is equipped with a multitude of board games for "game night," a whole list of bands for live music and a mic for those who wish to "jam." There are also plans for "movie nights" and other cozy collaborations to add to the make-you-feel-at-home vibe.
For those coming from places other than Heliopolis, the trip will likely be for a particular live band or movie screening, but for the Heliopolis crowd, Sip'n Dip has the potential to be a neighborhood favorite. When your home just isn't homey enough, chill, eat and play board games or work on your laptop in the comfy couches at Sip'n Dip.
Snack plates range from LE25–40, and dip plates range from LE5–7. The chocolate fountain for LE80 serves four.
This piece was originally published in Egypt Independent's weekly print edition.