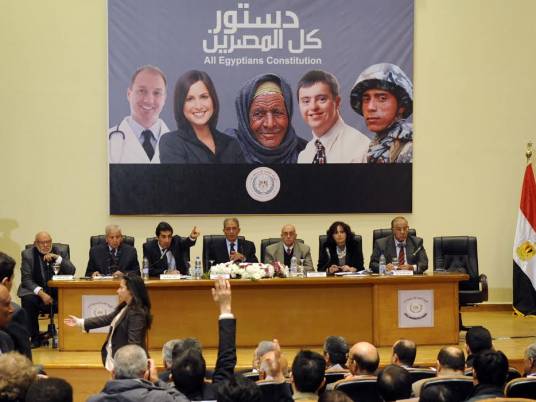 State Information Service chief, Amgad Abdel Ghaffar, officially resigned on Wednesday, a day after an embarrassing controversy about a banner that appeared at a press conference held at SIS headquarters earlier this week.
The banner, which was used in a conference to introduce the new draft constitution, featured stock images, easily searchable online, of foreigners posing as Egyptians.
"I am a fighter and I did not give up on my responsibilities," Abdel Ghaffar wrote in his letter of resignation. "I am offering my resignation to save the presidency any embarrassment."
He noted, however, that if the president does not accept his resignation, he will continue in his post.
Abdel Ghaffar told Al-Masry Al-Youm that he tried, during his short tenure as SIS chief, to improve performance. He said that the constitution conference banner was "an unintentional mistake that I apologize for to journalists and all Egyptians, as well as the president."
An unidentified source from inside SIS said the embarrassing episode was used for negative propaganda in Western media, as if it was the only significant thing that took place in the conference.
The source also said that the banner was a gift from Hany Aziz, secretary general of "Lovers of Egypt's Peace" NGO, who swooped in last minute, offering SIS the banner. The press conference would have otherwise had a banner, as they do not have the funding.
The source added that SIS is working under difficult financial conditions. "SIS had no budget for the constitution press conference, to the extent that the SIS personnel paid the interpreter fees at the conference out of their own pockets, and sought to find external grants to translate the constitution into English," the source added.
Edited translation from Al-Masry Al-Youm