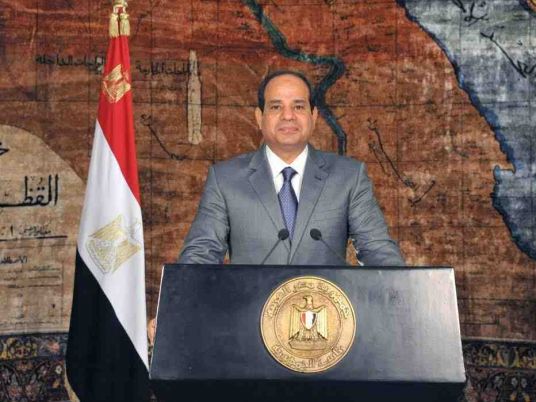 Egypt's president Abdel Fattah al-Sisi defended the wide-criticized protest law and the bloody dispersal of the Rabaa al-Adaweya and Nahda sit-ins demanding the reinstatement of his successor, Mohamed Morsy, whom he ousted in 2013 amid wide-scale protests.
The president, in an interview with German newspaper Der Spiegel, published on Sunday, denied that the ouster of Morsy had caused the death of hundreds and the detention on thousands others. He argued that the number of deaths occurred since Morsy's removal is very low compared to the death toll in Iraq, Syria, Yemen and Libya over the past ten years noting that Egypt's population is equal to those four countries combined.
"If we compare the number of victims we would find out that the army had protected the Egyptian people," the president told the newspaper.
Commenting on the deadly dispersal of pro-Morsy sit-ins in Rabaa al-Adaweya and al-Nahda squares, which left an estimated death toll over at least 600, though Human Rights Watch has estimated the number at likely 1,000 people, Sisi stressed that the number of deaths could have been tens of times higher if the protesters had been left to encounter the people. "We had offered protesters to disband the sit-in peacefully many times," the president added.
Sisi said that Brotherhood protesters aimed their weapons at police and adopted extremist, terrorist thought, suggesting that they falsely believed they would die as 'martyrs'.
The president pointed that he had two choices dealing with the Muslim Brotherhood, either to kill them or refer them to trial, noting he opted for the difficult choice of prosecuting them.
Asked whether former president Mohamed Morsy picked him as defense minister for his religiousness, Sisi replied he did not pretend to be religious, stressing that he was "a good reader" in religious affairs.
The president stressed that Egyptians agree with his goals and visions, noting that popular support was a new experience he was not familiar with throughout his military service.
In the interview, Sisi reiterated the independence of the judicial authorities. He said while activists oppose the law regulating the right to protest and demand its removal, the law was inspired by similar German and French laws which require prior permission before demonstrating. "There are 90 million Egyptians in need for water, bread and development, if protests are to continue all day and night, how can we achieve that?" the president asked.
The president said religious dialogue should be freed from misconceptions, noting that the Holy Quran and Islamic Sharia remained the sole doctrinal reference for 1,400 years, saying that the fact requires reliance on varied sources for interpretations. He added he had held meetings with scholars from al-Azhar, the Coptic Orthodox Church and politicians, where he stressed on freedom of belief and citizen's freedom to follow any religion they select.
Edited translation from MENA