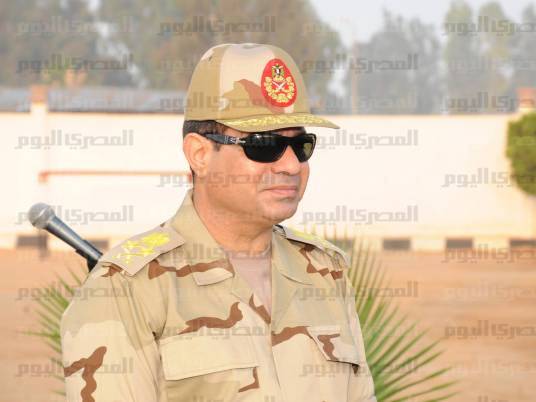 Defense Minister Abdel Fattah al-Sisi called on Egyptians to stage rallies on Friday 26 July to delegate power to him to face possible outbreaks of violence and terrorism.
"We have lived up to your expectations and achieved all you asked for. I ask all honest Egyptians to take to the streets this Friday to grant me the power to face potential violence and terrorism."
Sisi called on all Egyptians to rally on Friday, saying that the army and the police will secure the rallies across Egypt.
In a speech he delivered on Wednesday at a military graduation ceremony, Sisi said, "I used to always tell the former president that the Egyptian army belongs to all Egyptians and that it is neutral towards all factions," adding that he had told ousted President Mohamed Morsy that the army would stay under his own leadership.
"I did not cheat him and I did not tell him that I supported him no matter what and would follow his every wish."
"I always tell everyone that God will ask us about everything we do and say. I always remind myself and others that God will hold us accountable and that nobody can betray God."
Sisi added that he had provided the former president with suggestions for steps to be taken to overcome various crises, adding that this is well documented.
Sisi said that he has sat with all political and religious powers since January 2011 and added that he has emphasized to all religious groups the need to respect the idea of the state and the need for the political leader of the country to be a president for all Egyptians.
When asked by Abu Eshaq al-Howeiny, a Salafi leader, whether they could nominate a leader, he told him that they could not because they still required effort, knowledge, and the qualifications to do so.
He added that he had given advice to all parties and warned that Islamists might consider Egyptians' rejection of their political beliefs a rejection of religion itself.
Sisi conveyed his condolences to the families of all the victims who have fallen in the past few months, adding that after the handover of power to a civilian president, the Armed Forces do not plan to hatch any conspiracies or betray anyone, but only to give their sincere advice.
Edited translation from Al-Masry Al-Youm