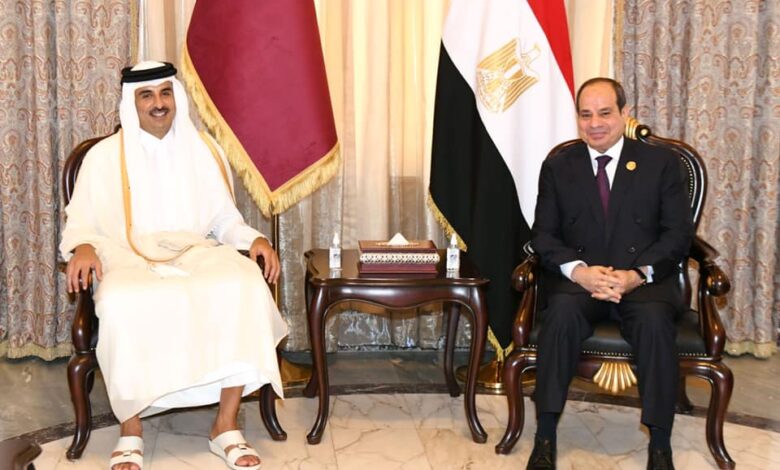 President Abdel Fattah al-Sisi headed to Doha on Tuesday morning for an official two-day visit, the first of this kind to Qatar, in response to an invitation addressed to him by Qatar's Emir Tamim bin Hamad Al Thani, the spokesperson for the Egyptian Presidency Bassam Rady announced.

The visit is the culmination of recent intensive mutual discussions between the two countries, with the aim of strengthening joint bilateral cooperation at all levels, Rady added.
Rady said that Sisi's visit will see him discuss the most important aspects of bilateral relations that bring the two friendly countries together, alongside consultation on various regional and international issues of common interest, which require concerted efforts to protect the Arab national security.
From shaky ties to solid bonds
The Egyptian Foreign Ministry announced back in 2021 that Cairo and Doha have exchanged two official memoranda, according to which the two countries agree to resume diplomatic relations, effective January 20, 2021.
The agreements come after nearly four years of a row between Qatar and Egypt, Saudi Arabia, Bahrain, and the UAE over Qatar's alleged terrorism sponsorship and its close relations with Iran.
A statement from Egypt's Foreign Ministry acknowledged the agreements, which came as part of the "solidarity and stability" agreement signed by Saudi Arabia, the United Arab Emirates, Oman, Kuwait, Bahrain, and Qatar during the Gulf Cooperation Council (GCC)'s summit meeting in al-Ula, Saudi Arabia earlier in January.
Despite the agreement, Egypt had remained wary of Qatar due to its connections with the Muslim Brotherhood and the harsh coverage Cairo receives from Qatari media, specifically state-run Al Jazeera.