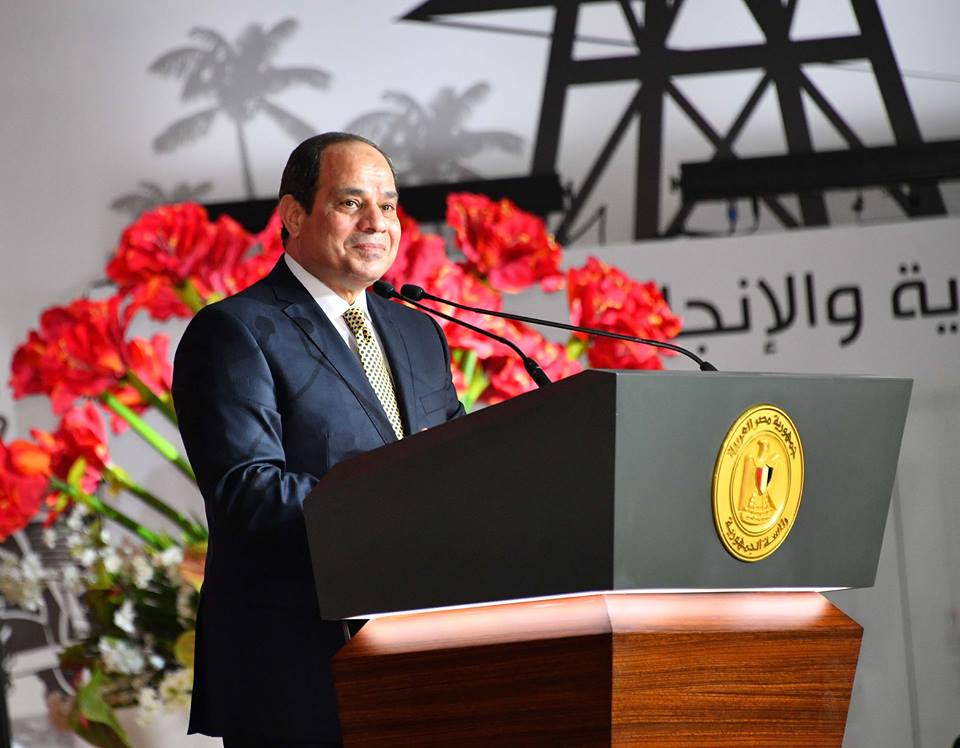 President Abdel-Fattah al-Sisi delivered on Wednesday an hour-long speech to the Egyptian people reviewing his first presidential term set to conclude this year.
In a three-day conference titled 'Hekyat Watan' (Story of a Nation), which kicked off on Wednesday inside the army-owned hotel 'El-Masa', Sisi outlined his administration's most prominent achievements and challenges.
Challenges:
Terrorism-
At the start of his speech, Sisi noted that from the outset, his presidential term was marked with an unprecedented wave of violence that was carried out by entities aiming to destroy Arab countries who exploited the revolutionary atmosphere that hit the region in 2011.
He explained that such schemes lead to the destruction of Syria and Iraq and resulted in the deaths of one million people and more than 15 million refugees.
Sisi said that the scheme also targeted Egypt because it is the backbone of the Arab world. If Egypt was destroyed, Sisi argued, then the Arab world would vanish.
Unemployment-
Sisi highlighted that one of the most important challenges that he faced was creating job opportunities for millions of Egyptians and to decrease unemployment.
He also said that Egypt had to absorb a massive flow of Egyptian workers returning from other countries in the region hit by crises.
Correcting Egypt's stereotype in the world-
Sisi said that Egypt's stereotype among foreign countries after the June 30 uprising was in need of correction and that the country had to restore its rightful position in the world.
Turning Egypt into an international industrial center-
Establishing a solid base for the industrial infrastructure in Egypt was a main challenge that Egypt's Sisi faced.
He explained that to turn Egypt into an international industrial center would mean establishing roads and tunnels, in addition to electricity stations and airports.
Bolstering Egypt's military power to face threats-
To secure Egypt's borders and mitigate against potential threats, Sisi said it was necessary to increase the country's military might and capabilities.
Main Achievements:
Economic achievements-
Sisi asserted that during his presidential term, Egypt's cash reserves increased to 37 billion dollars up from 16 billion dollars in 2014.
He added that Egypt's exports witnessed an increase, while imports decreased.
Unemployment also decreased from 13.4% to 11.9% because numerous job opportunities became available due to the number of national projects being established.
"3.5 million job opportunities were available due to the presence of so many national projects," Sisi said.
He also highlighted that the flow of the foreign investments increased by 14% in the fiscal year of 2016-2017.
Combating Informal Districts-
Sisi said that one of the priorities of the state was to eliminate the presence of informal districts. As a result, the state started to establish 25,000 residential units to provide appropriate housing for residents from such areas.
State-sponsored housing-
He also noted that the state established 245,000 residential units for middle-class citizens at the cost of LE 32 billion and that 355,000 units are now being established at the cost of LE 71 billion.
Roads-
Sisi explained that to create an appropriate atmosphere for investment, it was necessary to establish well-built roads. Therefore, Sisi said, the state developed and established 7000 kilometers at a total cost of LE 85 billion and nearly 200 bridges at a cost of LE 25 billion.
Ending power cuts-
Ending the power crises that hit Egypt in 2014 came as one of the main priorities of Sisi's agenda. The administration worked to double power stations in Egypt, to sustain an estimated 25000 megawatts, he said.
Establishing new cities-
Sisi noted that his administration was keen from the beginning of his presidential term to establish a number of new cities and engage in a massive reclamation project to prepare four million acres for agriculture.
He explained that his administration is now working to establish 13 new cities, besides the establishment of Egypt's administrative capital that is currently under construction.
Eliminating Hepatitis C virus-
Sisi stressed that the elimination of the Hepatitis C virus has been on the forefront of his agenda, saying that his administration succeeded in blunting the siege of the epidemic and that treatment was provided to 1.4 million patients at a cost LE 3.7 billion.