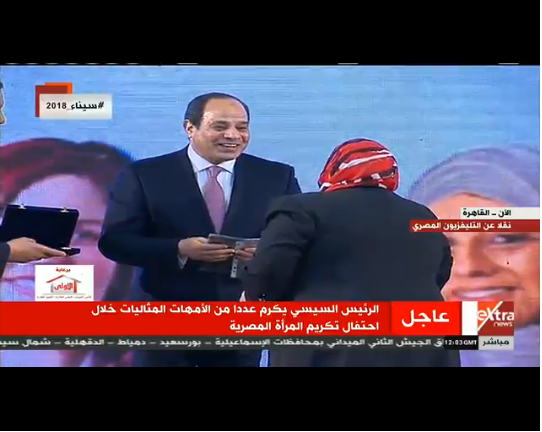 President Abdel Fattah al-Sisi honored on Wednesday 42 women as 'Mothers of the Year' to mark Mother's Day in Egypt, in a ceremony held at a Cairo hotel.
Three ministers delivered a speech in the event, including Solidarity Minister Ghada Waly and Planning Minister Hala al-Saeed, as well as Chairwoman of the National Council for Women (NCW), Maya Morsi.
A large number of public figures, ministers, and Egypt's first lady Entessar al-Sisi attended the event.
Egyptian women are Egypt's third line of defense after the army and the police, said Morsi in her speech, adding that Sisi confirmed her role since the first day he assumed power.
Morsi said that the women of Egypt enjoy security and safety in a region full of conflicts that have left women in poor conditions.
Egypt has a clear policy and approach to empowering women across all fields, Morsi said, referring to legislation and unprecedented laws recently issued to protect the rights of Egyptian women. The NCW has recently reached 2 million rural women to make them aware of their rights, Morsi noted.
Meanwhile, Saeed stressed that the announcement of 2017 as the Year of Egyptian Women emphasized the important status of women in society and the state's recognition of the role of women in development.
She added that the state is working on eliminating the challenges faced by women in the labor market, highlighting that the government had organized several training programs for women to boost their participation in the labor market.
Saeed stressed that women in Egypt will gain their full rights through the support of political leadership.
Waly, meanwhile, said that the state has recently provided many social protection programs for Egyptian women.
She added that the Ministry of Solidarity started the largest program for the development of nurseries, and plans to design a logo for nurseries under its supervision with the brand name 'My Nursery'.
She pointed out that the Ministry continues to provide care to women through various awareness and service programs in different fields.
"It took the administration of the official competition of ministry workers in governorates a lot of time and effort over three months to choose 'Mothers of the Year'," Waly said in an earlier statement on Tuesday.
She added that more than 824 mothers applied for the competition and the final selection was selected according to standards that encouraged the education and work of women, as well as family planning.
"All Egyptian mothers deserve to be honored. The Egyptian mother has hit the finest examples of sacrifice for her children," Waly said.
Edited translation from Al-Masry Al-Youm