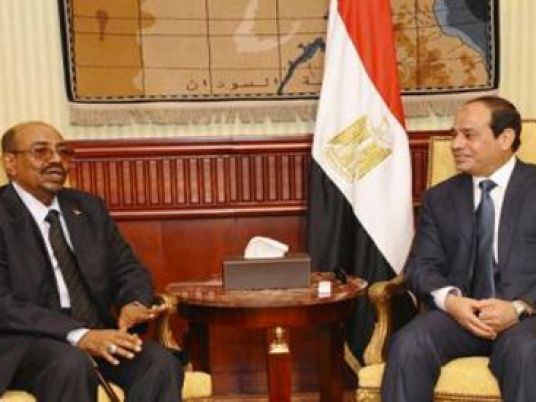 President Abdel Fattah al-Sisi met with Sudanese Defense Minister, Awad Mohamed Ahmed bin Auf, in Cairo on Monday.
During the meeting, Sisi stressed that his country is not conspiring against or interfering in the internal affairs of any country, Sudan in particular.
These are the first remarks Sisi has made to a Sudanese official since Sudanese president Omar al-Bashir alleged,  in May, that Egypt backs rebels in Darfur and provides armored vehicles.
Bashir said his armed forces seized Egyptian armored vehicles during clashes in Darfur. Several Sudanese Facebook pages have posted photos and videos of the alleged vehicles.
Sisi said that Egypt's foreign policy is based on well-founded principles and values including good-neighborliness, non-interference in the internal affairs of any country and cooperation for peace, construction and development.
He said that the current stage requires more coordination and intensive consultation between the two brotherly countries and to not allow any problems to affect the strength of the relationship between the two countries.
During the meeting, the two leaders discussed ways to improve military and security coordination between the two countries and agreed to hold the meeting of the Joint Military Commission, with the aim of enhancing cooperation and coordination between the two sides on the border.
The Sudanese minister expressed his country's appreciation for Egypt's pivotal role in maintaining the stability of the Arab nation and promoting joint Arab action. He stressed that Egypt's security is part of the security of Sudan.
He expressed the aspiration of Sudan to continue coordination between the defense ministries of the two countries in order to overcome any obstacles that may disturb Egyptian-Sudanese relations.
During the meeting, Sisi asked Auf to convey his greetings to President Omar al-Bashir, stressing the two countries' historical ties and close relations.
The Sudanese ambassador to Cairo, and Egypt's Defense Minister, Sidqi Sobhy, attended the meeting as well, according to president Spokesperson Alaa Youssef.
Auf conveyed in turn the greetings of Bashir to the president, stressing the importance of coordination between the two countries to face common challenges.
Youssef pointed out that Egypt continued to provide humanitarian aid to South Sudan, the last of which was a food shipment transported on a C 130 military aircraft,
Edited Translation from Al-Masry Al-Youm