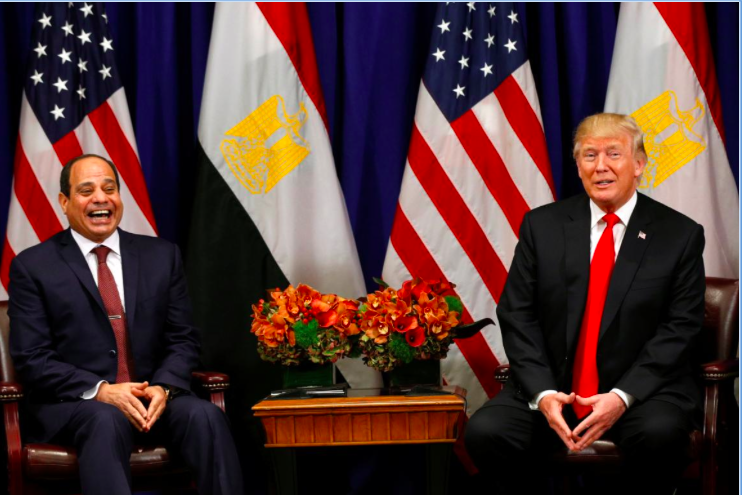 Egypt's President Abdel Fattah al-Sisi and US President Donald Trump met on Wednesday at the White House, where the leaders affirmed that relations between Egypt and the US are at their best.
Trump said during the meeting that this Egypt-US summit will discuss many issues, particularly military and commercial relations, adding that significant progress has been made with Cairo in the fight against terrorism.
"Thank you very much, my friend," he said, directing his words to President Sisi.
Sisi thanked Trump for his invitation and said that "Relations are already at their best for many years, thanks to President Trump and his support to Egypt in various fields which we seek to develop including the political, military, economic, cultural and other files."
The summit discussed strengthening of bilateral relations in all fields, which will contribute to strengthening joint cooperation between the two countries, especially in the military fields and counter-terrorism.
The Egyptian-US talks reviewed overall developments on the Middle East and the importance of reaching political solutions to the existing crises in a number of countries in the region, preserving their unity, sovereignty and safeguarding their national institutions.
During a meeting with US Secretary of State Mike Pompeo and senior advisor to US President Jared Kushner, Sisi explained that Egypt's position towards the Palestinian cause seeks to establish an independent state for the Palestinian people in accordance to international references.
Senator Bob Menendez, Democratic leader of the Senate Foreign Relations Committee, and Republican Senator Jim Rich, the chairman of the committee, sent a letter to Pompeo urging him to address "the erosion of political and human rights" in Egypt during his meeting with Sisi in Washington.
Trump also pointed out that his wife, First Lady Melania Trump, was very impressed with the Pyramids when she visited Egypt.
Edited translation from Al-Masry Al-Youm