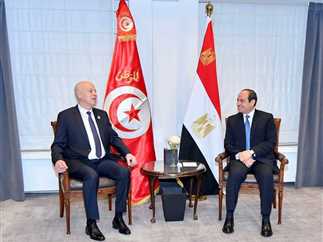 President Abdel Fattah al-Sisi met with  Tunisian President Kais Saied, at his residence in the Belgian capital, Brussels, official spokesperson for the Presidency Bassam Rady, said.
Sisi stressed the solid brotherly relations between Egypt and Tunisia, and Egypt's keenness to push forward the frameworks of bilateral cooperation at various levels.
Sisi stressed the continuous support for the measures and efforts made by Saied to overcome all challenges of the current stage and achieve stability and security in Tunisia in order to build a better future for the brotherly Tunisian people.
Saied meanwhile affirmed his country's pride in close relations with Egypt at the official and grassroots levels, praising the achievements that Egypt has made over the past years in the areas of security, stability and development, as well as its prominent political weight at the regional and international levels, its positive repercussions on joint African- Arab action, and efforts to reach political settlements to the existing crises in the region.
Rady added that the meeting discussed ways to enhance bilateral cooperation frameworks between the two brotherly nations and exchanged visions on a number of regional files of common interest.