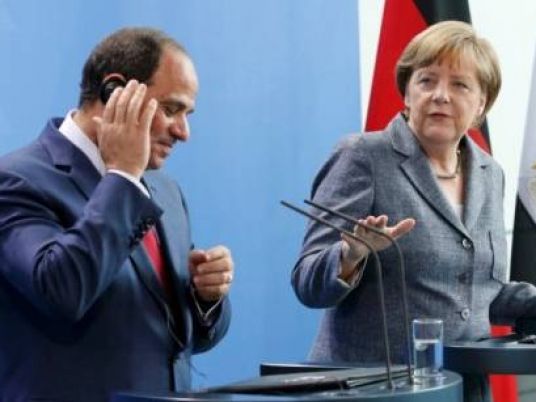 Egyptian President Abdel Fattah al-Sisi held talks with German Chancellor Angela Merkel on the sidelines of the Munich Security Conference on Saturday, discussing Egypt and Germany's relation.
Merkel stressed her country's keenness to strengthen relations with Egypt in various fields, as Egypt represents a cornerstone of stability and security in the Middle East, Africa and the Mediterranean region.
Presidential Spokesman Bassam Rady said that Sisi expressed his hope that the coming period would see further interaction between two two countries, especially with Egypt's presidency of the African Union (AU) and Germany's current membership in the UN Security Council.
The meeting saw a review of various bilateral issues and the steady development of Egypt-Germany relations especially economically, Rady said. The meeting also touched on some regional and international issues of common concern, particularly the crisis in Libya and Syria, as well as Egypt's vision on ways to enhance joint African action in the light of Egypt's current presidency of the African Union.
Rady noted the recent cooperation by the largest German companies known for their competence and experience such as Mercedes, which decided to resume their activities in Egypt.
Sisi expressed his hope to attract more German companies to invest in the Egyptian market and also stressed the importance of building on the results of Germany's Federal Minister for Economic Affairs and Energy, Peter Altmaier's recent visit to Cairo alongside a delegation of heads and representatives of major German companies.
Sisi reviewed the priorities of the Egyptian presidency of the African Union, particularly in regard to promoting economic and trade integration of the continent under the African Continental Free Trade Agreement (AfCFTA), as well as the formulation of a continental infrastructure project in Africa.
Germany will be able to play an active part in this framework, Sisi said, through cooperation with German companies, launching triangular cooperation projects between Egypt and Germany for the African continent and promoting peace and security in Africa and settling disputes within Egypt's 'silencing the guns' initiative.
Edited translation from Al-Masry Al-Youm