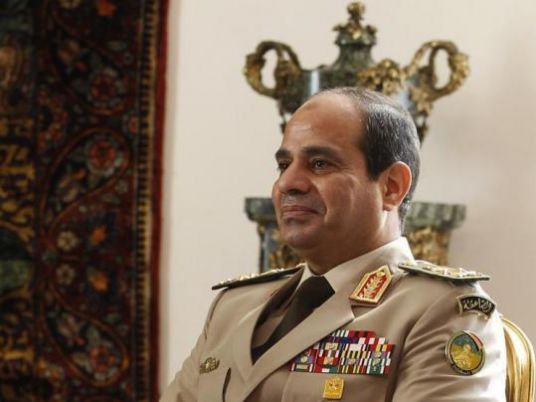 Defense Minister and Field Marshal Abdel Fattah al-Sisi said that Egypt's people and military are able "to take out the roots of terrorism" and that "terrorist operations will not affect the determination and perseverance of the great Egyptian people."
During the ninth cultural symposium at al-Galaa theatre held by the military's Morale Affairs Department, Sisi said that Egypt needs its people to work and make efforts toward reaching security, stability and progress.
Sisi added that people have "free will to decide what they want and trust whoever they want." He stressed that what the armed forces did during the 30 June revolution was for the sake of Egypt and people.
Sisi also said that personnel and leaders of the armed forces had sworn to protect the country and to be at the service of the people.
Sisi is widely expected to run in the upcoming presidential elections, anticipated to take place in April.
Sisi led what some label a military coup that ousted former President Mohamed Morsy in July as a result of mass protests demanding his removal.
Authorities in Egypt labelled the Muslim Brotherhood, to which Morsy belongs, as a terrorist group and accused it of carrying out bombings against military and police that took place at several Egyptian cities.
Edited translation from MENA