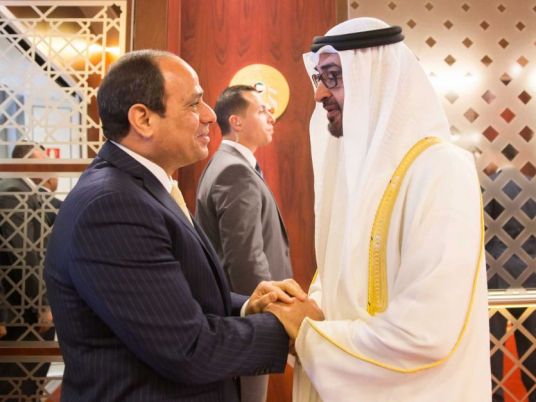 President Abdel Fattah al-Sisi will receive on Thursday Sheikh Mohamed bin Zayed al-Nahyan, crown prince of Abu Dhabi and deputy supreme commander of the UAE armed forces, at the Ettihadiya Presidential Palace in Cairo.
The two officials will address bilateral ties between Egypt and the Emirates. They will discuss regional issues within the Middle East, including efforts to combat terrorism, the situations in Libya, Syria and Yemen as well as the matter of Palestinian.
Cairo will be the second stop for bin Zayed in a week of travels in the region. The prince's arrival in Egypt on Thursday will follow his participation in the US-Gulf summit, to be held in Riyadh on Wednesday, in attendance of the presidents of the Gulf Cooperation Council (GCC) countries, US President Barack Obama and his Secretary of State John Kerry.
The UAE and Saudi Arabia, along with Kuwait, have been Egypt's top Arab financiers following the overthrow of president Mohamed Morsy in 2013.

Edited translation from Al-Masry Al-Youm