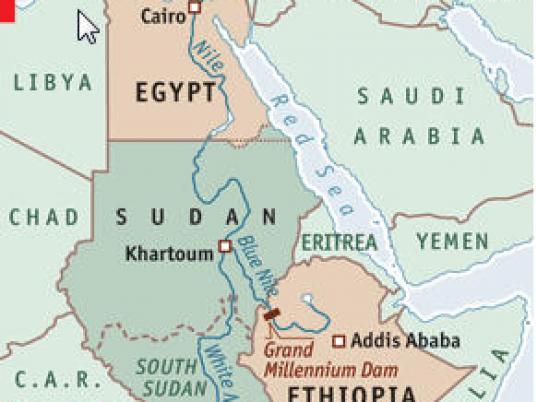 President Abdel Fattah al-Sisi received on Tuesday ministers of water from five Nile Basin countries including Sudan, Tanzania, Uganda, South Sudan and Burundi who took part in the conference organized by the National Water Research Center in Cairo.
Egyptian Minister of Irrigation Mohamed Abdel Aaty Khalil and ambassadors of the participating countries attended the meeting.
Sisi welcomed the ministers and highlighted Egypt's attention toward boosting ties with African countries, especially the basin countries, said presidential spokesperson Alaa Youssef.
He reiterated Egypt's vision, which focuses on cooperation as the best way to manage the joint water resources.
Sisi stressed the necessity of abandoning conflicts and boosting cooperation with the basin countries to carry out the implementation of the framework agreement.
With regard to the basin countries, Sisi stressed Egypt's interest in reaching a consensus resolution in the form of a comprehensive agreement that secures water security for all parties.
Sisi added that Egypt adopts policies based on non-intervention within the affairs of other nations or conspiring against them; rather, it focuses on its own developmental path in order to achieve real progress.
The participating ministers, according to Youssef, praised Egypt's technical support in fields of water resources and irrigation, as well as the joint projects carried out at several Nile basin countries.
They commended Egypt's role in boosting cooperation with those countries; and expressed agreement with Sisi over cooperation to achieve joint interests, especially that the scarcity of water in Africa requires joint work to take proper advantage of the limited water resources.
Minister Abdel Aaty reaffirmed during the meeting Egypt's interest in cooperating with the Nile Basin countries.
He referred to the navigational line project, which links Victoria Lake with the Mediterranean Sea, as a promising project which will provide a maritime exit for African landlocked countries.
The president, according to Youssef, also stressed the importance of achieving economic integrity between basin countries, highlighting the necessity of carrying out integrative developmental projects to improve the infrastructure of the basin countries, in order to foster trade exchange and achieve joint interests.
Edited translation from Al-Masry Al-Youm