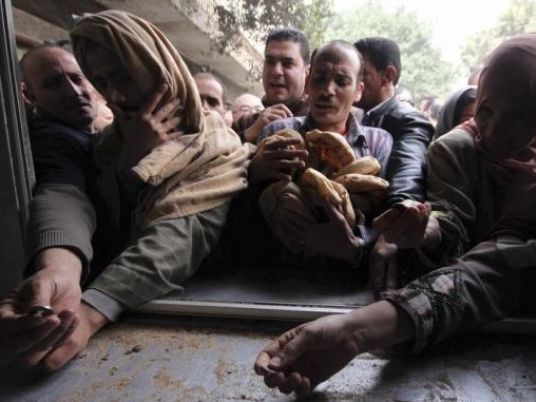 Egyptian President Abdel Fattah al-Sisi approached a highly sensitive issue on Saturday while inaugurating residential projects in Badr City, northeastern Cairo.
Sisi said that subsidies to bread won't continue as it is, and there is need to "rearrange and reshape" the support provided to people.
Bread was one of the three main demands – along with freedom and social justice – the Egyptian chanted will taking to the streets during January 25 Revolution in 2011.
According to official estimates, Egyptians consume daily between 250 million and 275 million subsidized loaves of local bread.
Egypt is the largest importer of wheat in the world, which mainly goes to the production of bread.
"Continuing this situation is not possible in light of the noticeable increase in the population," Sisi said.
"There is a problem related to the fact that the subsidy that was provided to about 30 million citizens 30 years ago is currently being provided to about 70 million citizens, which means that there is a significant increase in the volume of beneficiaries and the value of the commodity."
"This is something that we cannot continue, and in this case it requires the provision of bread to a huge number of the population, which no country can afford," Sisi added.
Not all Egyptian receive subsidized bread, it is provided for low-income families through a program associated with ration cards program. Egypt has a population of about 101 million people.
Sisi said that the subsidized bread system was prepared during the past fifty years and was built on basis and conditions that didn't exist at that time, and it cannot continue  in this way.
He pointed out that a loaf of bread had cost 18 piasters and was sold for two piasters, and now a  bread loaf currently costs 65 piasters and is sold for five piasters.
"People were very surprised when I talked about the loaf of bread and said why are you talking about this issue… The conditions that prevailed at that time (50 years ago) cannot continue or we accept its continuation indefinitely," Sisi said.
President Sisi said that the Egyptian state's currently available resources cannot be compared to those that prevailed in 1900, given the increase in population growth to a greater degree than spending rates, pointing out that the value of the pound is not what it was before.
The population of Egypt increased from nine million in 1900 to 100 million today.
He said that population growth that exceeds Egypt's capacity results in practices and behaviors such as those that were to destroy the country in 2011.