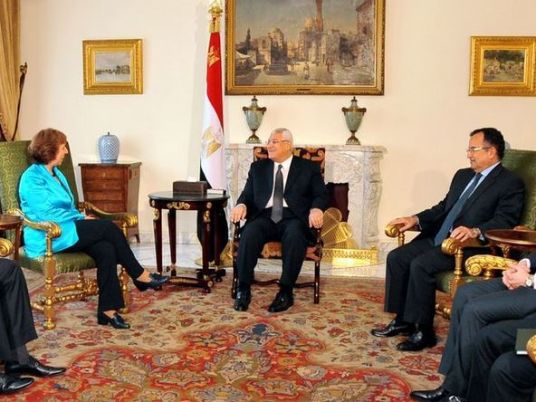 Former defense minister and presidential hopeful Abdel Fattah al-Sisi met Thursday with the European Union's foreign policy chief, Catherine Ashton, and its accompanying delegation who are currently in a visit to Egypt.
According to the facebook page of Sisi's presidential campaign, the former general said his decision to run for the presidential elections, slated for 26 and 27 May, came as a response to "the people's will", noting that his vision for the country's future is focused on the "average Egyptian citizen".
ِِِِAccording to the page, the meeting tackled several issues including the presidency polls. It quoted Sisi as stressing on the "strategic ties between Egypt and the EU", as well as assuring the West that "freedoms and rights will be protected in the coming period".
Sisi noted that his campaign would be "unconventional", voicing a hope that the anticipated elections would set a model respected by Egyptians and the international community.
Ashton, on her part, called Sisi's presidential bid "brave" and coming within "difficult" circumstances. She stressed that the word will be watchful of Egypt during the coming period, adding that Europe would continue to support Egypt and the choices of the Egyptian people.
The EU's foreign policy chief said economic challenges should top the priorities of the next president, but added that political challenges had also to be addressed in order to achieve "genuine" and "deep" democracy.
Ashton was quoted as saying that the EU will be attentively watching the electoral process. She said the EU is aware that Sisi's bid was not for the sake of power, but rather out of a sense of responsibility, according to Sisi's campaign.
In a relevant context, AFP reported that Ashton agreed with Egypt's foreign minister in principle on Thursday to supervise the presidential polls.
A joint statement said the two sides agreed that an EU "election observation mission" would be deployed at the invitation of the Egyptian government.
The statement said Ashton welcomed the fact that the necessary agreements will be concluded shortly, "allowing for unhindered movement of observers throughout the country and access to all legal political interlocutors".
It added that the "mission will conduct its work and make its assessments impartially and neutrally" and that "both sides look forward to a transparent and credible election".