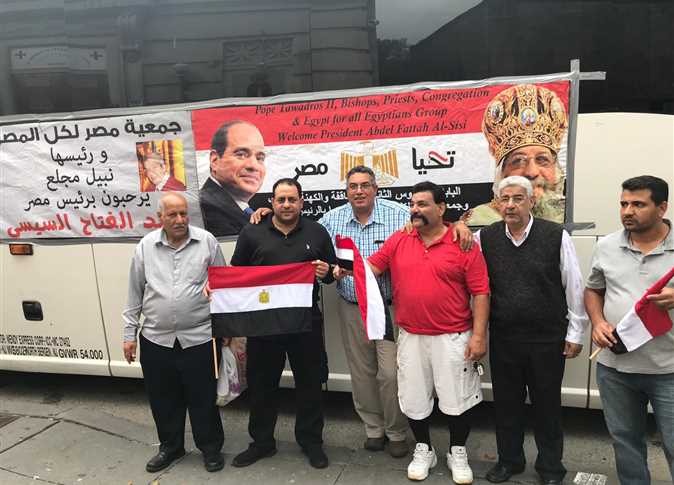 Egyptian President Abdel Fattah al-Sisi will start an official visit to Washington on Monday, upon invitation from US President Donald Trump, while Egyptian expatriates from all across the US are set to gather at the White House and welcome him.
The visit comes as part of a series of meetings between the two presidents aimed at strengthening the partnership between Egypt and the US to achieve joint strategic interests, as well as continuing bilateral consultations on regional issues.
The Egyptian-US summit will discuss developments in the Middle East,  particularly the Golan Heights situation and Jerusalem, and also issues such as confronting terrorism and extremist groups and pushing forward the peace process in the Middle East.
President of the Egypt Association for All Egyptians and coordinator of the General Union of Copts for the Homeland in the United States of America, Nabil Megalla said that his association has provided 50 buses to transport Egyptians living in the US for free to go to Washington and rally in front of the White House to welcome President Sisi.
Speaking to Al-Masry Al-Youm, Megalla said that the Egyptians turning out to register for welcoming President Sisi have exceeded all expectations. Megalla said that the Egyptian community feels the results of economic reforms in Egypt, which encouraged many expatriates to invest in their home country.
Egyptian-US relations are characterized by their economic strength, with the economy always a topic present in talks between them. The US has been the largest economic partner of Egypt since the late 1970s; Egypt ranked 52nd in the list of the United States' trade partners.
While relations between the two countries have gone through difficulties, common interests have helped overcome them. The volume of trade exchange between Egypt and America reached about US$8 billion, distributed between $6 billion in exports to Egypt and $2 billion in exports by Egypt.
Edited translation from Al-Masry Al-Youm