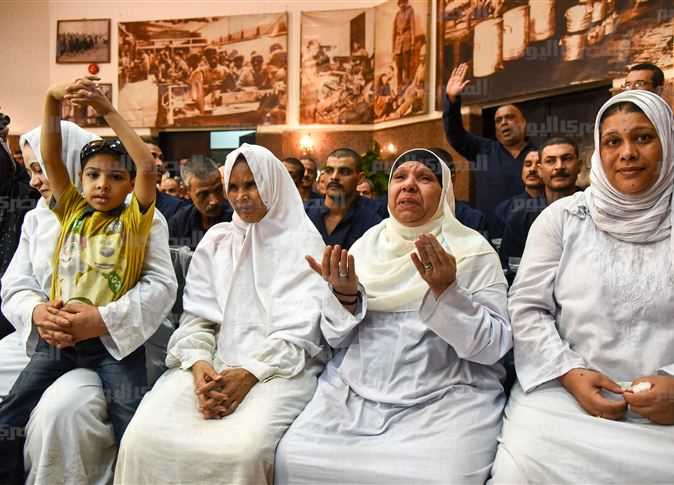 On the first day of Eid al-Adha, Egypt's prisons released 683 men and women debtors after paying their debts, which totaled to LE 30 million, thanks to the "Tahya Misr" fund as part of a new initiative launched by President Abdel Fattah al-Sisi in June.
The president's initiative, "Prisons without debtors", aims to free all prisons from people crushed by poor economic conditions, forced to borrow money to get basic domestic needs such as electrical appliances or furniture and unable to pay back.
They may borrow money from several people and sign a receipt without the amount available to pay, which according to Egypt's criminal law article 341 stipulates their crime as a "Betrayal to Municipality".
As each debt has a separate penalty, their imprisonments could reach up to more than 25 years.
The initiative excludes prisoners who have been involved in crimes related to the government, bribery, forgery, disruption of transportation, crimes against the law of ammunition, and drugs and trafficking.
"The initiative is good as these debtors did not commit any crime warranting imprisonment, they were only stumbled by economic woes," Vivian Fouad, head of the Women Empowerment Project in the National Population Council told Egypt Independent.
Fouad believes that NGOs and other organizations can also participate in the initiative and pay off debts.
"The government or NGOs can protect these people and let them earn money to pay back in installments, so things can go easier," she said.
She also pointed out the law could substitute imprisonment with civil service instead.
"These debtors could instead receive a training period in public service places such as hospitals and schools," she said.
Hussein Abu Gad, member of the Human Rights Committee, released a press statement hailing the initiative saying that this is the best time to release the debtors as it enabled them to spend Eid al-Adha with their families.
Rania Yahya, member of the National Council for Women, praised the initiative and called it "humane".
She also stressed on the necessity to spread awareness to warn against signing checks and receipts without a balance and not to borrow unnecessary things. Yahya added that the National Council for Women is working on that through seminars and workshops.
Hafez Abu Seada, head of the Egyptian Organization for Human Rights, told Al-Ahram newspaper that the president gave a helping hand to debtors to save them from prison, adding that these are innocent people whose conditions forced them to borrowing money to help their families.
Abu Seada stated that they have been exposed to mental stress behind bars and their families are facing major social problems.
Parliament member Mohamed Khalifa said that the initiative is a respectable move and the parliament should further it, as many have been imprisoned after they couldn't pay back LE 1000, even if all they wanted to do was to pay for weddings.
On the legislative side, head of Human Rights committee in the parliament Alaa Abed is working on a bill to prevent imprisonment of debtors in Egypt, as more than 5,000 of them have been driven due to poor living conditions.
"The draft law consists of two legislative provisions of the penal code and criminal procedures, so a comprehensive bill will be wrapped up, especially as this the first initiative in the world to be carried out by a country that has witnessed two revolutions and is going through very difficult economic conditions, but at the same time still tries to solve the debtor dilemma," Abed told Al-Masry Al-Youm Newspaper.
Sisi's efforts to release debtors date back five years ago when he was a minister of defense in August 2013, when the armed forces decided to pay bacl the money owed by female households who were sentenced to prison on cases of checks without balance, releasing around 48 prisoners at the time.
At the beginning of 2015, Sisi then launched a similar initiative with a different name to release successive batches of debtors starting in February of the same year, helping more than 1,100 cases.
During June in Eid al-Fitr, Sisi launched a new initiative announcing the end of the debtor dilemma in Egypt by paying the debts of 960 people from the Tahya Misr fund.
On 23 July, in commemoration of the July 23 revolution, the prison sector released around 683 debtors after paying their debts.