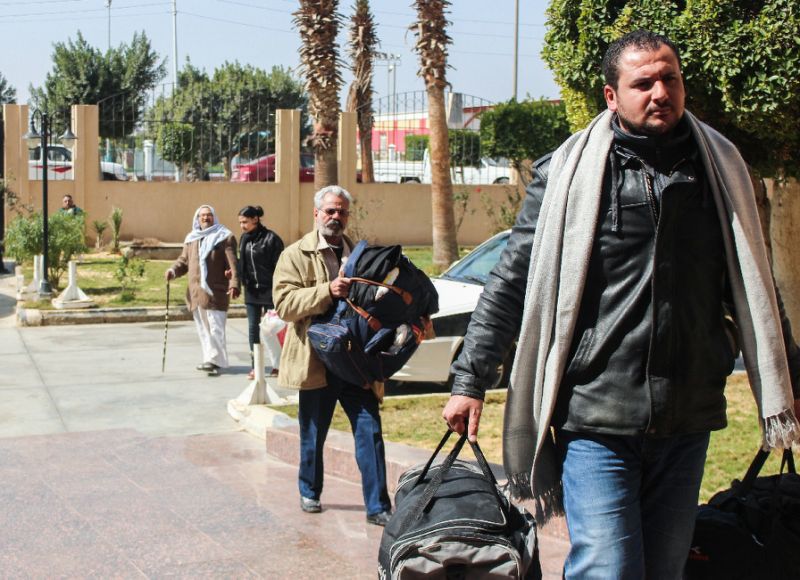 Anonymous people wrote phrases and slogans bearing the name of "Islamic State" (IS) terrorist groups on the walls at Al-Mamar Square in Ismailia, as well as on the walls of the Coptic Christian cemetery of the city.
Dozens of Coptic families earlier this week had fled to Ismailia city, escaping IS attacks in Al-Arish city, North Sinai, against Christian minorities there.
Official sources in the governorate said that these slogans were surprising, and janitors were tasked with cleaning and painting the walls of the cemetery and square.
"All religious phrases that have sprung up recently in public squares and on walls have been removed," Ismailia governor Major General Yassin Taher said.
He said that these phrases and slogans: "aimed at instigating discord between members of society," describing those who wrote slogans of IS as "not (loyal) Egyptians".
Taher stressed that he gave instructions to the neighborhood heads in the city to intensify their work to remove any slogans or phrases in all sectors of the city; adding that he contacted all concerned security agencies to maintain tighter control over all public areas, and activate the work of surveillance cameras and security personnel 24 hours-a-day, seven days-a-week.
He said that more locales are currently being prepared to receive any numbers of displaced Copts in the coming hours. He said that 232 persons, representing 76 families, who arrived in Ismailia have been housed.
Meanwhile, Health Minister Ahmed Emad Eddin met Sunday with Taher and other governorate officials to devise a plan to offer medical services to the displaced Copts.
Emad Eddin said that 26 mobile clinics have been deployed to serve the displaced citizens, also grants cards have been issued to receive free treatment at Ismailia hospitals.
Takfiri militants claiming allegiance to the IS gunned down a Coptic Christian on Thursday inside his home in Al-Arish city of North Sinai, the seventh such killing in a month's time in the same region.
The killing comes days after Egypt's IS affiliate, which is based in the Sinai Peninsula, vowed to step up attacks against the embattled Christian minority.