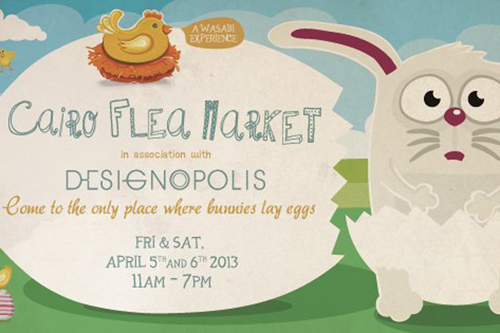 The Cairo Flea Market is becoming an increasingly popular destination for those seeking to buy secondhand items and hidden treasures. A hit in February on Valentine's Day, and also on 9 March, the market will be open again during the weekend of 5–6 April with an Easter egg hunt, activities for kids and many fabulous things to purchase.
This is a place where more than 100 exhibitors gather to sell used items and antiques, as well as new items. The greatest thing about it: Anybody can participate in the bazaar, ensuring there is something unique on every corner.
Here you will find almost everything, from home accessories, furniture, carpets, gadgets, vases, chairs and baby strollers to old phones, dresses, DVDs, CDs, records, electronics, shoes, bags, belts and toys. There are also board games, vintage items, picture frames, paintings, plants, kitchen appliances and accessories, jewelry, CD players, cassettes, mobile phones, TVs, homemade goods and food — lots of food, in fact.
Some of the exhibitors who rented tables in the March market were selling their old discarded things and trying to make alternative sources of income as well.
"We sell some of our old things that are still in good shape but that we don't need anymore. But it's the new stuff that always saves the day and pays for the table rent, and give us some extra cash," says Nesreen, who rents a table with her mother.
Tarek Eletrebi, managing partner at Wasabi Experiential Agency and one of the organizers of Cairo Flea Market, says they rent grounds at Designopolis mall, located on the Cairo-Alexandria Desert Road, for the market. From November, the market became a monthly event, held on the second Saturday of every month.
Eletrebi hopes that a second flea market will open in the Fifth Settlement. "It has been gaining momentum, actually. People who are fed up of the economic and political tensions can come here for a break," says Eletrebi.
Wasabi, the organizing agency, wanted to introduce people to a new experience. "It is a totally unique experience, and that's what we wanted to have here," Eletrebi explains.
He understands that people may be afraid to come all the way down to the Cairo-Alexandria Desert Road, so organizers try to target areas closer to the location, such as 6th of October City or Sheikh Zayed, where they distributed 10,000 fliers about the market.
But they depend on Facebook event circulation and word of mouth to attract new people to the market.
The flea market is not a place for amateur sellers. More than 50 craftsmen and creative talents from the Arts of Darb al-Ahmar — which shows the unique arts of craftspeople from the Darb al-Ahmar district in the heart of historic Cairo and Souq Fustat — exhibit their beautiful handmade crafts, such as traditional art, clothing, furniture, perfumes, candles and brass lanterns, hand-woven home accessories, bags, wraps and much more.
There were also NGOs among the exhibitors, such as Life Makers and Craft Arabia, which sell their crafts and artwork for a good cause — to raise funds for their organizations.
While enjoying a day out, children can also have fun because there are so many things they can do — play in the playground, jump on trampolines, draw or paint.
For more information on next week's flea market, check its Facebook page at www.facebook.com/CairoFleaMarket