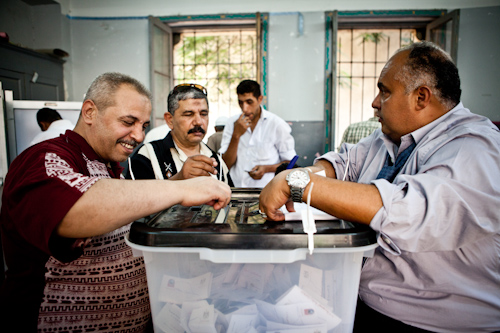 Egypt's government will likely call a presidential election ahead of parliamentary polls, two officials said on Monday, rearranging the political timetable in a way that could see army chief Abdel Fattah al-Sisi elected head of state by April.
Parliamentary elections were supposed to happen first under the roadmap unveiled after the army deposed Islamist President Mohamed Morsy in July.
But some secular-leaning political figures and other critics have campaigned for a change, saying the country needs an elected leader to direct government at a time of economic and political crisis and to forge a political alliance before a potentially divisive parliamentary election.
Political figures supportive of the change have lobbied interim head of state Adly Mansour during four recent meetings, said officials familiar with what was discussed.
"The forces that attended the four meetings agreed, with a large percentage, to have the presidential elections first and that means that most likely the presidential elections will be first," said one of the officials.
An army official added: "Presidential elections are most likely to be held first, as it seems to be the demand of most parties so far."
Sisi is widely seen as the leading candidate for the presidency, though he has yet to announce his candidacy.
The army chief is reviled by his Islamist opponents as the man behind what they describe as a coup against Egypt's first freely elected president.
Since Mursi's removal, the government has cracked down hard on Morsy's Muslim Brotherhood, which won five elections after the downfall of veteran autocrat Hosni Mubarak in 2011.
The government last week intensified pressure on the movement by declaring it a terrorist group, widening the scope for the crackdown.
The government decision followed a suicide attack on a police station that killed 16 people. The Brotherhood condemned the bombing, responsibility for which was claimed by a radical Islamist group called Ansar Bayt al-Maqdis.