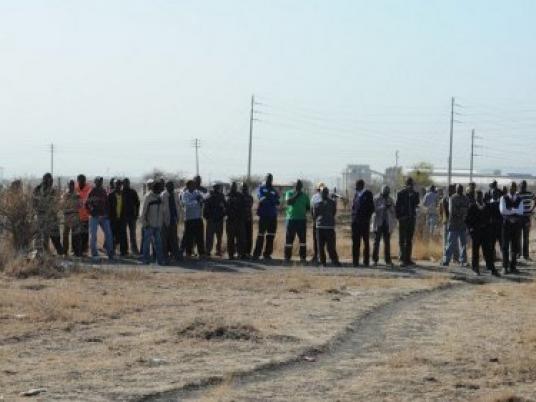 Thousands of miners refused Monday to call off a strike at a South African platinum mine where police killed 34 people, with only 13 percent of employees reporting for work amid intimidation from strikers.
Police in armored trucks watched from a distance as some 2,000 people gathered a few meters from a hill where police gunned down the 34 workers 11 days ago in the country's bloodiest day since the end of apartheid.
The world's number three platinum producer, London-listed Lonmin, said strikers at its Marikana mine were still intimidating colleagues who tried to return to work.
"There have been incidents of intimidation toward bus drivers overnight as well as intimidation of [eastern shaft] workers this morning, preventing them from coming to work," the company said in a statement. "Preliminary figures are 13 percent average attendance across all shafts this morning. We understand that employees are waiting for the environment to be safe before returning to work."
Autopsy reports on the dead meanwhile showed most had been shot from behind, a local newspaper reported Monday.
"The post-mortem reports indicate that most of the people were fleeing from the police when they got killed," an unnamed source involved in the investigation told The Star newspaper.
"A lot of them were shot in the back and the bullets exited through their chests," said the source, adding only a few were found to have been shot from the front.
South Africa's police watchdog said it was also probing 130 complaints from those arrested during the unrest that police had beaten or injured them in detention.
"We are investigating allegations of assault," said Independent Police Investigative Directorate spokesperson Moses Dlamini.
More than 250 detained workers were due to appear in court on Monday on charges ranging from murder to public violence.
Workers at the mine were meanwhile flocking to the dusty open space that has become their regular meeting point, some dressed in underground safety boots and clothes, and said they would defy calls to go back to work until demands for a 300-percent wage increase were met.
"If we are dismissed there will be violence, our position has not changed. We want money, we want 12,500 rand [US$1,490 per month] across the board," said Lungisani Nogwanya, an employee for eight years.
"The strike continues and we won't move until we are given money, otherwise they should take their company back to London and exploit people there," he added.
Monday's attendance figures plummeted after a promising weekend, when Lonmin had reported a turnout of more than 50 percent at the mine's eastern shafts as the illegal strike dragged past two weeks.
Alfonso Mofokeng, a miner from Lesotho, said Monday that strikers would "deal with" staff who had returned to work.
"We are aware that some people have gone back to work, we have noted that behavior and we need to come up with a plan to deal with them," he told AFP. "By going to work they are saying the murder that happened here was in vain, and they are fine with it."
The shooting on 16 August brought the death toll at the mine to 44, after earlier clashes killed 10 people including two police and shut down production. Police have claimed they opened fire in self-defense.
Lonmin said it was hoping most of its 28,000 workers would clock in Monday.
"I came to see if it is safe to return to work. Police have advised us not to mill around in groups around the mine, they say it is for our safety," said Johannes Ndebele outside a shaft entrance Monday morning.
"I decided to return to work because the strike has not been successful, but other people back in the hostel want to continue with the strike. They say they want money first," he added.
A fresh round of talks between Lonmin and representatives of the striking workers was set for Monday, while government-brokered talks will continue Wednesday.