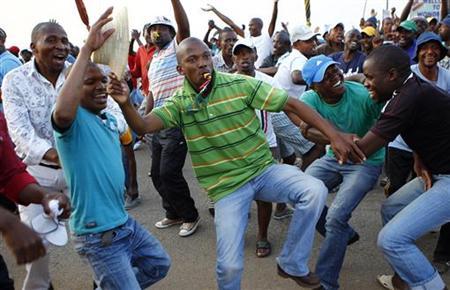 Thousands of miners at Lonmin's Marikana operations in South Africa returned to work on Thursday after a hefty pay hike ended a six-week strike, but nearby mines faced more industrial action with workers demanding similar raises.
Shouting "We are reporting for work" in Fanagalo, a pidgin mix of Zulu, English and other African languages, the Lonmin miners were in jubilant mood after securing wage increases of up to 22 percent.
Forty-six people died during the wildcat strike at the world's number three producer, and constricted supplies of the precious metal pushed its price more than 20 percent higher.
"I feel very happy that I can go back to work now," said Nqukwe Sabulelo, a rock-driller at the mine, 100 km (60 miles) northwest of Johannesburg. "I'm going to live well now."
But the unrest has taken root at other mines, with the world's biggest platinum producer, Anglo American Platinum (Amplats), threatening legal action if wildcat strikers did not return to work on Thursday.
"Anglo American Platinum's Rustenburg mining operations are already under considerable economic pressure," it said in a statement. "Any further delays in returning to work will only increase the risk to the long-term viability of these mines."
On Wednesday, police fired tear gas and stun grenades to disperse a crowd of men carrying traditional weapons such as spears and machetes in a squatter camp near an Amplats mine outside the city of Rustenburg.
"We'll not go to work until we get what we want. Our kids have been shot at, our families have been terrorized and brutalized, but we are not going back to work," one miner, who did not wish to be named, told Reuters.
"Even though they block us from congregating in large numbers, we'll not go back," he added, standing close to a police armored vehicle.
The gold sector has also not been spared, with 15,000 miners at the KDC West operation of Gold Fields, the world's fourth largest bullion producer, on an illegal strike.
Economists said Lonmin may have set a precedent for wage settlements that could spread through an economy already saddled with globally uncompetitive costs.