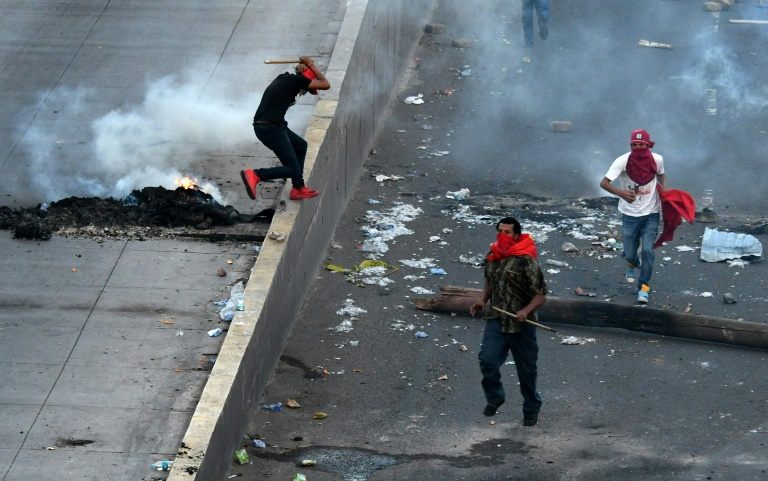 The Honduran government declared a state of emergency late Friday and imposed a 10-day curfew in an attempt to stop violent demonstrations across the country triggered by claims of presidential election fraud.
Police said at least two officers and 12 civilians were injured, some by gunfire, after clashes in several parts of the country between riot police and opposition supporters.
The violence was sparked by opposition candidate Salvador Nasralla claiming election fraud and calling his supporters onto the streets.
An executive decree issued by President Juan Orlando Hernandez, who is seeking re-election despite a constitutional ban on a second term, imposes a nighttime curfew from 6:00 pm to 6:00 am.
Representatives of the country's Supreme Electoral Tribunal (TSE) and political parties, national and international observers and journalists accredited to cover the elections are exempt.
Thousands of Nasralla supporters blocked roads across the country, and footage of their confrontations with the police — who attempted to disperse demonstrators with tear gas — went viral on social media.
In the capital Tegucigalpa, protesters lit bonfires of sticks and tires on boulevards and on exit routes.
The unrest sparked panic, with people rushing to supermarkets and gas stations to stock up, fearing the riots would prevent them from leaving their homes.
Shops closed by the afternoon and some international flights were suspended at the capital's airport.
Cliffhanger vote 
With nearly 95 percent of the ballots counted from last week's vote, Hernandez had a razor-thin lead of 42.92 percent over Nasralla's 41.42 percent.
TSE president David Matamoros postponed until Saturday a special count — with officials from both camps present — to review ballots with inconsistencies, blurs and other errors before a result can be declared, following new demands from leftist leader and ex-president Manuel Zelaya.
"Within three days, we will have the result. We accept to recognise the final result if they accept these points," Zelaya said.
But in an television interview, Nasralla demanded a full recount, warning of possible collusion between the TSE and the government.
"Do not let them steal the presidency," said activist Juan Barahona of Nasralla's Alliance of Opposition Against the Dictatorship.
Police said they had arrested 50 people for alleged looting between Thursday and Friday.
Security forces said rioters had damaged businesses and vehicles, some of which had been doused in gasoline and set on fire.
Earlier, Hernandez broadcast a statement calling for calm and predicting "we are going to do very well" in the vote.
The Organization of American States observer mission urged the TSE in a letter Thursday to ensure that 100 percent of the ballots were processed before declaring a result.
"Political parties should be given the opportunity to present challenges. These will have to be dealt with impartially and within a reasonable timeframe and following due process," it said.
"This is the only way to restore confidence in this election and in the integrity of the popular will."