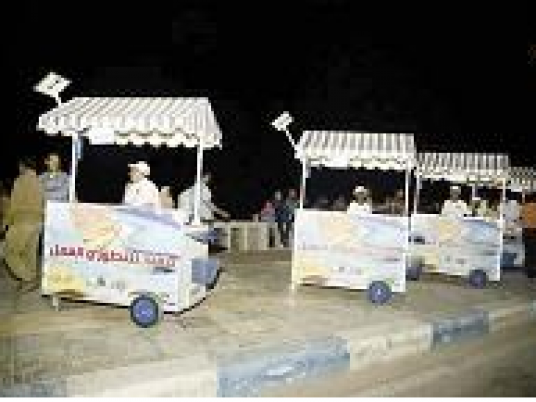 The Alexandria governorate has contracted a local supplier for the purchase of 13 solar-powered carts to be used by street vendors, as the country shifts to alternative energy resources to offset chronic fuel shortages.
News reports said the plan is designed to end vendors' practice of illegally obtaining electricity from lampposts.
The Al-Borsa news website quoted Al-Adham Company's head, Yasser al-Adham, as saying that the carts would be available at a daily rate of LE10. He further explained that the company would provide an additional 10 carts each week to meet citizen demands which had stood at 50.
The cost of manufacturing the carts stands at LE16,000, according to Al-Adham.
Saeed al-Fawwal, head of the Eastern Alexandria municipality, said the initiative will ensure vendors are carrying the appropriate licenses when working and will add aesthetic touch to the seaside area.
The governorate had provided vendors in the neighboring Marsa Matrouh province with new illumination techniques that have proven attractive for passers-by at the Cornich (seaside) area.
"The cart's appearance, cleanliness and illumination have been attractive for clients," Gad al-Sayyed Ayyad, one of the vendors in Matrouh, told Al-Masry Al-Youm. He said the new carts in Matrouh cost LE8,000, for which he pays in installments.
Ayyad, however, has a problem with maintenance issues, which prompted him to resort to regular batteries to keep his cart alight. "It is a successful project, but the only problem is with maintenance," he said.
The working season is another dilemma for Ayyad. "We work them during summer to cater for vacationers. Otherwise, we garage them at home".