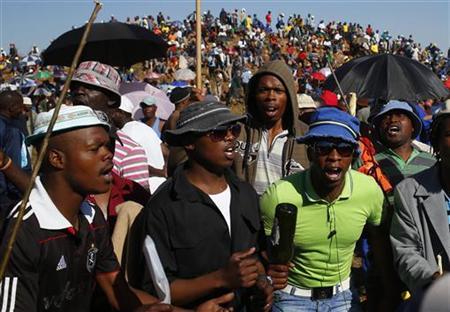 South Africa's main platinum miners union will resume government-brokered talks next week with the world's top three producers, in an effort to end a strike that showed flickers of violence on its second day, officials said on Friday.
Union leaders representing as many as 100,000 miners who walked off the job on Thursday sat down with management from the three companies, which produce more than half the world's platinum, a metal used in catalytic converters in cars.
The three – Anglo American Platinum (Amplats), Impala Platinum and Lonmin – say union demands to more than double the miners' basic pay are "unaffordable and unrealistic."
Amplats said the strike was costing it 4,000 ounces per day, while Implats was losing about 2,800 ounces daily. Smaller rival Lonmin estimates losses at some 3,100 ounces a day.
The strike and fears of unrest hit the rand, pushing it through the psychologically key 11.0 to the dollar to levels last seen five years ago. Violence in the platinum sector could trigger a heavier sell-off in the currency.
The companies' talks with the hardline Association of Mineworkers and Construction Union (AMCU) were held under the auspices of South Africa's main commercial arbitration body, labor ministry spokesman Musa Zondi said.
"They will sit down on Monday and talk," he said after several hours of mediation in Johannesburg. Next week's negotiations are expected to go on for three days.
"It would be good if something positive were to come out of it,' Zondi said.
The government stepped in to mediate to avoid damage to an already struggling economy and to the political standing of President Jacob Zuma and the ruling African National Congress, which faces general elections in around three months.
Police reported several violent incidents, including the torching of a Chinese furniture shop in Marikana, a mining town near Rustenburg, and the barricading of roads with burning tires, stones and rubble. No arrests were made.
PLATINIUM BELT TENSION
Police armored vehicles roamed the platinum belt, 120 km (70 miles) northwest of Johannesburg, mindful of the bloodshed and violence of the last two years, especially at Marikana, where 34 miners were shot dead by police 18 months ago.
"We are concerned about what's happening on the platinum belt because of history. We want a peaceful strike," police minister Nathi Mthethwa told a news conference in Pretoria.
Security guards at an Amplats' mine near Rustenburg told Reuters not to drive towards the mine gates as strikers were blocking anyone from crossing their picket line.
"They will damage your car if you drive further," one said.
Implats said strikers were blocking miners who wanted to report for work at its operations.
"Never a good situation as it raises tension and the risk for potential violence," Implats spokesman Johan Theron said.
AMCU's rival, the National Union of Mineworkers (NUM), said its members at Implats were assaulted as they reported for work.
The government has been unable to soothe nearly two years of tensions in the platinum belt, where miners are angry about their lack of economic progress two decades after the end of apartheid.
The AMCU-affiliated workers say they will not call off the strike until their demand for a 12,500 rand ($1,100) a month minimum basic wage are met.
South Africa has an average minimum wage of around 2,500 rand a month. The basic wages for entry-level miners is currently about 5,000 rand.
"There is nothing that can change our demands," prominent AMCU member Evans Ramokga told Reuters.