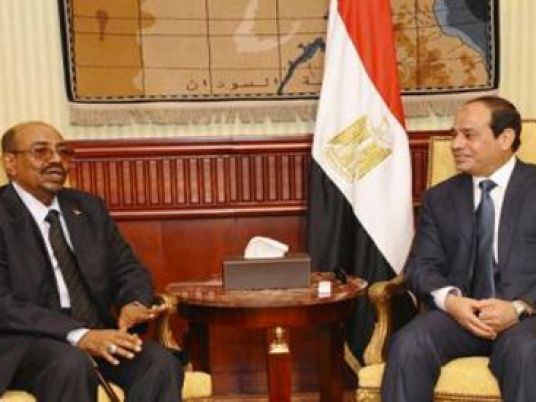 Sudan's pro-government journalists' union on Tuesday urged Khartoum to deport Egyptian reporters after Cairo refused entry to two Sudanese journalists who had travelled to Egypt.
This call comes as Khartoum and Cairo are trying to improve ties, which have recently deteriorated after Omar al-Bashir accused the Egyptian government of harboring and backing Sudanese opposition figures fighting his troops
Egyptian authorities denied journalist Iman Kamal al-Din from Al-Sudani newspaper entry and deported her, just 24 hours after a similar move against journalist Al-Tahir Satti of daily publication Al-Intibaha took place on Monday.
"The union is calling on the government to respond in a similar fashion by expelling all Egyptian media representatives based in Sudan, including Egyptian state media journalists," according to a statement on Tuesday.
The union also urged the authorities to ban all Egyptian publications from sale in Sudan and order for Sudanese television and radio networks to stop broadcasting Egyptian news.
The Sudanese journalist, Satti, recently wrote a series of articles criticising the Egyptian government's stance on the disputed Halayeb area.
Al-Din had written articles about the alleged construction of an Egyptian military base in Eritrea, which Atef Mokhtar, managing editor of Al-Sudani newspaper, speculated could be the reason for her deportation. Mokhtar told a Sudanese satellite channel that al-Din was visiting Cairo for journalism training.
"This is a clear targeting of all Sudanese journalists," the union said in a statement. "Egyptian intelligence services are trying to blame Sudanese journalists for the failure of Egyptian policy towards Sudan."
The Sudanese Journalists Network condemned how Sudanese journalists are being treated in Egypt, mentioning that the country also refused to allow journalist Haitham Osman to obtain an enty visa. Osman is a colleague of Satti at Al-Intibaha newspaper.
"The network is very concerned, as it fears that reports of a blacklist which includes Sudanese journalists are true. We reject and condemn the rhetoric adopted by Egyptian authorities and, as we have said before, the Egyptian government should differentiate between regimes and their people," the network said in a statement.
Tensions between Khartoum and Cairo escalated following Sudan's decision to restrict imports of farming products from Egypt, which Cairo recently reciprocated with a decision to raise residency fees for Sudanese people living in Egypt.
The Egyptian media has also accused Khartoum of offering refuge to members of the Muslim Brotherhood movement, which was declared a "terrorist group" by Cairo following the ouster of Islamist president Mohamed Morsi in 2013.
The neighboring countries are now engaged in high-level diplomatic initiatives to improve their relations. Egyptian Foreign Minister Sameh Shoukry visited Khartoum last week for a talk with his Sudanese counterpart Ibrahim Ghandour to ease tensions between the countries and curb activities of opposition groups in their territories.