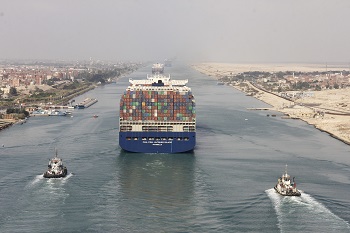 The Suez Canal Authority announced that it targets 15 percent share of global energy trade in 2040, to enhance its role as a major route to that trade.
The Suez Canal succeeded efficiently in being a major route for global energy trade, as it doubled its share from 4 percent, in 2005, to 8 percent in 2019, of global energy trade. It aims to reach 15 percent of energy globally by 2040, official at Suez Canal Authority's planning department, Ahmed Abdel Moneim, said in a statement by the authority.
The Suez Canal Authority announced earlier in January that it achieved the highest revenue in its history during 2021, which recorded US $6.3 billion, compared to $5.6 billion in 2020, an increase of $720 million.
In March 2021, The Panama-flagged container ship Ever Given ran aground in the canal for almost six days halting  navigation movement and causing losses estimated at $400 million per hour, and losses to the Suez Canal Authority estimated at $15 million per day.
The canal authorities succeeded in re-floating the ship, and the crisis was settled amicably with the ship's owner company.