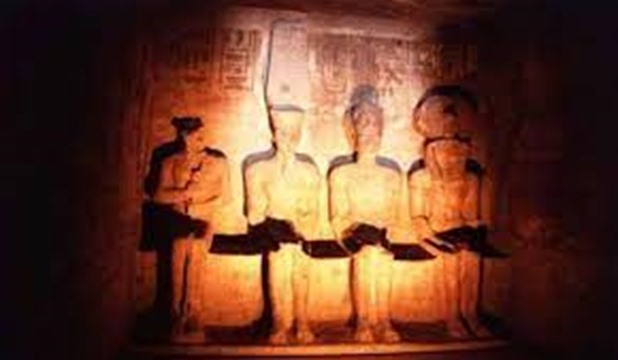 Abu Simbel Temple witnessed on Saturday a rare astronomical event which happens twice every year when the first rays of the morning sun illuminate the statue of King Ramses II.
As many as 3,000 tourists and Egyptians attended the event, in the presence of Aswan Governor Ashraf Attia.
The spectacle, which marks the king's birthday on February 22 and his coronation on October 22, occurred on 5:53 (Cairo local time) and lasted for 20 minutes, said the head of Aswan and Nubia Antiquities Abdel Moneim Saeed in statements.
The biannual fall of sun rays on King Ramses II Statute, one of the most popular remnants of the Pharaonic era, usually draws a large number of local and foreign visitors.
One of Egypt's most powerful and well-known pharaohs, Ramses II had the temple carved into a sandstone mountain on the banks of the Nile.
Abu Simbel, a village in Nubia in southern Egypt, near the border with Sudan, houses, 3,200-year-old Abu Simbel temples which are two massive rock temples situated on the western bank of Lake Nasser, about 230 km southwest of Aswan.
The UNESCO World Heritage site, known for its four colossal statues at the entrance, was partially buried in the sands before being rediscovered in the 1800s.