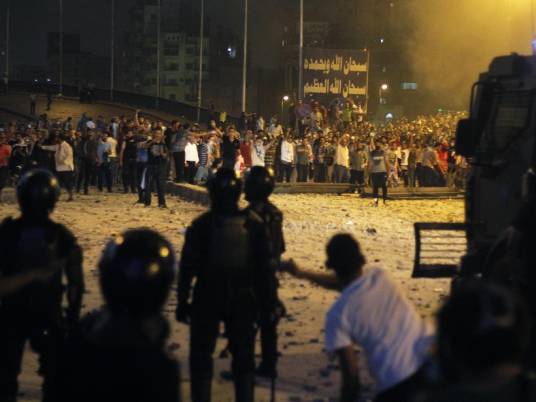 Muslim Brotherhood Supreme Guide Mohamed Badie has denounced what he described as the use of violence by police officers against supporters of ousted president, Mohamed Morsy.
"When peaceful protesters marched through the streets and squares of Cairo declaring their adherence to [President Mohamed Morsy's] legitimacy, they were faced with violence and met with tear gas," Badie claimed.
"The police [also] incited thugs against them and protected them while using live bullets and birdshot with the intention of murder, killing 10 martyrs and injuring hundreds," the supreme guide said, referring to Monday night clashes in Cairo and Giza which saw seven killed, according to Health Ministry figures.
Badie added that in contrast, the police protected peaceful demonstrations by Morsy's opponents.
"The police have repeatedly announced they will protect peaceful demonstrations," Badie meanwhile argued on his official Facebook page, adding that security forces have done so when dealing with anti-Morsy protests "opposing constitutional legitimacy."