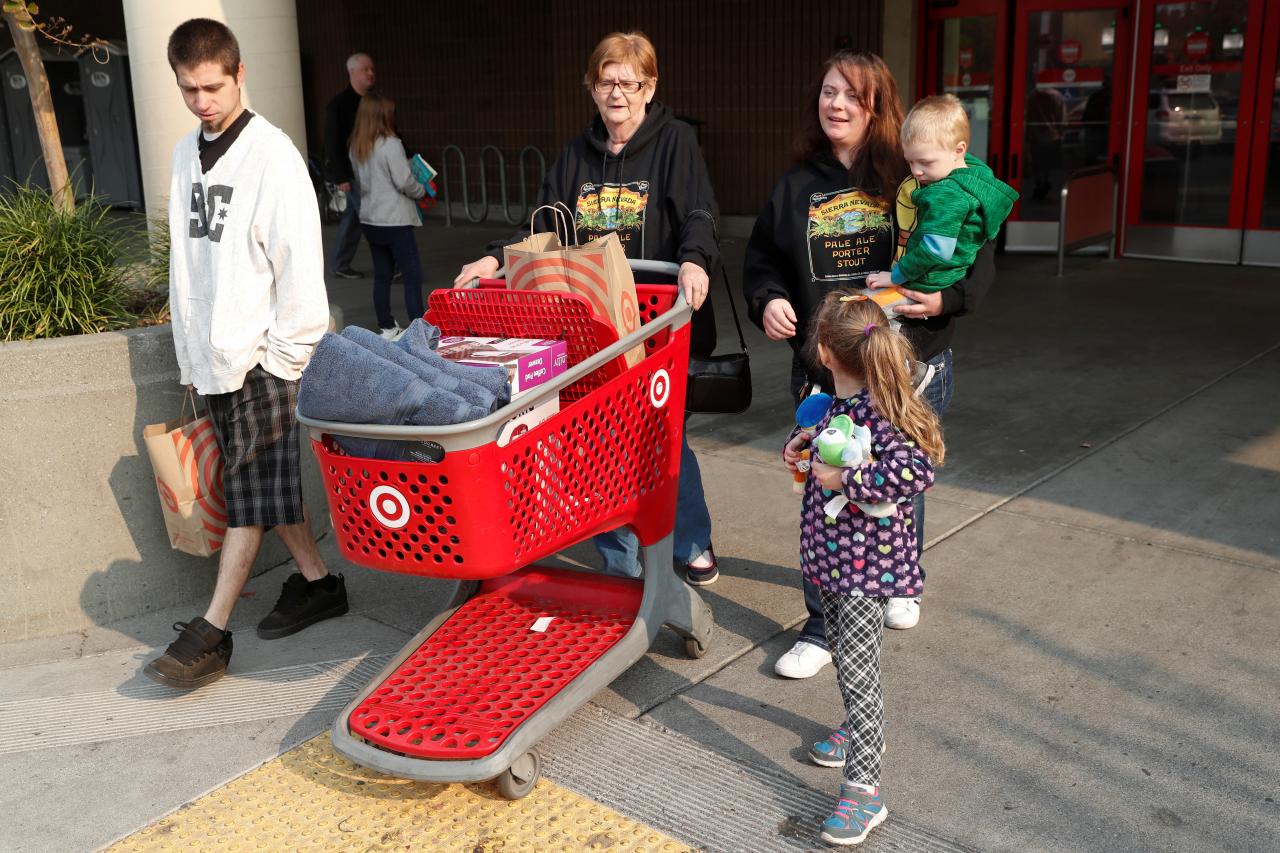 Most years, Kelly Doty marked Thanksgiving by delivering scores of meals to low-income families with children in the tight-knit Northern California mountain community of Paradise.
But after the Camp Fire all but incinerated the town of nearly 27,000 residents on Nov. 8, killing at least 77 people and leaving almost 1,000 missing, the family resources center where Doty worked as a director had to scrap the annual food drive.
"All the families are displaced. There's no houses to deliver boxes to," Doty, 37, said by telephone from Battle Ground, Washington, where she and her two sons and boyfriend are staying with relatives.
She does not know the whereabouts of the 80 meals that staff at the Paradise Ridge Family Resource Center collected ahead of the holiday, or even if they survived the blaze.
Her house was reduced to rubble by the fire, as were the homes of the center's three other employees.
Still, Doty said she had plenty to be thankful for. Her family survived and managed to escape with belongings such as family photos and children's clothing. Many of her neighbors fled with only the clothes on their backs.
"I feel like I still have a lot," Doty said.
In a twist, she said they were the ones receiving charity this year. During a visit to a Battle Ground pizza restaurant last week, the owner discovered they were Camp Fire evacuees and gave them a $100 gift card and $50 bottle of wine.
The band playing that night passed a tip jar around the room on their behalf, too. "It was just incredible, these people didn't know us and they were donating money to us," Doty said.
Turkey in the park
For years in Chico, a few miles (km) west of Paradise, a 59-year-old homeless woman named "Mama" Rose Adams has served a Thanksgiving meal for homeless people in a park. She and her helpers buy some of the food from money they raise recycling, while the rest is donated by friends and family.
On Sunday, she was serving 17 roasted turkeys at an event advertised on social media and flyers around town. She was encouraging evacuees from the wildfire to attend, since they are now homeless too.
"I'm sure a lot of them are uncomfortable now," Adams said at the park where a few dozen people sat at picnic tables to eat. "A lot of them don't have places to cook or eat."
Among the displaced in Chico was Sonya Butts, her twin sister, Tonya Boyd, and their families. They had been among those hoping for a Thanksgiving meal parcel from Doty's center.
The Camp Fire may have taken her home, her job and her town, Butts said, but it left her with the things that matter most to her.
"Being alive, knowing my husband and my kids got out alive, that's all I ever wanted," Butts, 28, said by phone from a Red Cross evacuation shelter at Bidwell Junior High School.
Butts, her sister and their families are lucky to be alive after a harrowing escape. They fled in a four-car caravan as the wildfire all but surrounded them, eventually reaching Chico where they watched their hometown burn in the hills behind them.
Still, Butts counts her blessings.
"Everything else can be replaced," she said. "My family cannot."
Reporting by Terray Sylvester; Additional reporting by Peter Szekely; Writing by Daniel Wallis; Editing by Peter Cooney