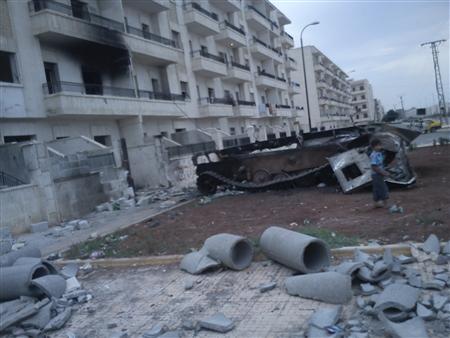 Syrian rebels have gained ground in the Golan Heights, which is partly occupied by Israel, launching coordinated attacks in the area and in nearby Daraa province, a watchdog said on Thursday.
"It appears that the rebels launched coordinated attacks on multiple parts of the Golan, taking control of areas and villages in the province of Quneitra," Syrian Observatory for Human Rights director Rami Abdel Rahman told AFP.
Overnight, the Observatory said, "rebels took control of the Mashati al-Khodr and Dawar Khan Arnaba regions, as well as artillery bases" after heavy fighting in Quneitra province.
"Violent clashes have also been underway since this morning in the areas of Sahem and Wadi al-Yarmuk" in Daraa province, in southern Syria, the group said.
Rebels seized an officers' club in Jaline village, "after the withdrawal of soldiers," while regime forces shelled the town of Sahem al-Jolan.
The offensive came as a Syrian security official in Damascus told AFP some 2,500 trained and equipped rebel fighters had entered the Daraa region in recent weeks.
The region borders Jordan, which the Damascus regime has accused of facilitating the flow of weapons and fighters into Syria.
Earlier this month, the German magazine Der Spiegel reported rebels were being trained in Jordan by American specialists, a claim US officials have refused to comment on.
Louay Moqdad, a spokesman and coordinator for opposition forces, was circumspect on the claims.
"Several states including the US, the Europeans and several Arab countries have offered training to the rebels but I cannot say where or when," he told AFP.
"Some of these states have started to give this training," he acknowledged, without giving further details.
Last week, a Syrian security official said Jordan had "opened its borders," allowing fighters and weapons to cross into Syria.
"There's been a change of attitude because up until now, Jordan had imposed strict controls on its border to prevent the passage of terrorists and weapons," said the source, blaming "pressure by countries that are hostile to Syria" for the change.
According to the Observatory, at least 169 people were killed throughout Syria on Wednesday.