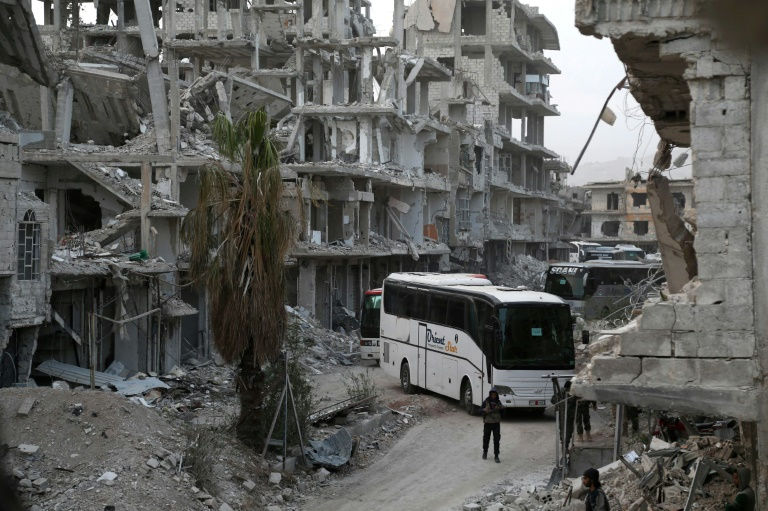 The Syrian government launched a fierce air and ground assault on the last rebel-held town in eastern Ghouta on Friday, killing at least 32 people in a bid to seal President Bashar al-Assad's biggest victory since 2016, a war monitor said.
State TV showed thick clouds of smoke rising from the targeted area, the town of Douma, where the Jaish al-Islam rebel group is holding out after insurgents in other parts of eastern Ghouta accepted safe passage to other rebel areas.
State TV said Republican Guard forces were pushing in.
Jaish al-Islam said its rocket and artillery brigade were responding to what it described as a massacre by "the Assad militias and their ally the Russian warplanes". Jaish al-Islam's political official called for talks to spare civilian bloodshed.
The Syrian Observatory for Human Rights, which monitors the war, said the 32 dead in Douma included five children and the air strikes were likely carried out by Russian war palnes. State media said rebel shelling of Damascus had killed four people.
Jaish al-Islam denied targeting residential areas.
A commander in the regional military alliance that backs Assad said Jaish al-Islam's only option was to accept safe passage to rebel-held areas northeast of Aleppo as talks overseen by Russia had collapsed.
"The negotiations have ended with failure. As far as Douma is concerned, resolving it militarily is the solution," the commander told Reuters.
State TV accused Jaish al-Islam of shelling a crossing out of eastern Ghouta and a residential area, saying this led to the air strikes. State TV reporters also said the rebels must release abducted soldiers and civilians they said the group was holding as one of the conditions for halting the assault.
Defeated rebel groups in other parts of eastern Ghouta have accepted safe passage to opposition areas near the Turkish border. While several thousand wounded fighters and civilians from Douma have taken that option in recent days, the Jaish al-Islam official denied any of its fighters had left.
Mohammad Alloush, the Jaish al-Islam political official, said the group wanted to continue negotiations. "We do not want to close a door that could lead to sparing the blood of civilians," he said in an interview with al-Hadath TV.
But Alloush, who is based outside Syria, indicated Jaish al-Islam was sticking by the demand to stay in Douma – a demand the government has rejected.
"We are negotiating to remain, for our people to remain … and for that which protects them to remain," he said. Otherwise they would be at risk from pro-Assad "sectarian militias", a reference to Iran-backed Shi'ite groups such as Hezbollah.
Tens of thousands of people are estimated to be sheltering in Douma.
Russian-backed government forces launched their offensive against eastern Ghouta in February. The Observatory says the attack has killed more than 1,600 civilians.
The conquest of Douma would underline Assad's unassailable position in the conflict that mushroomed out of protests against his rule seven years ago.