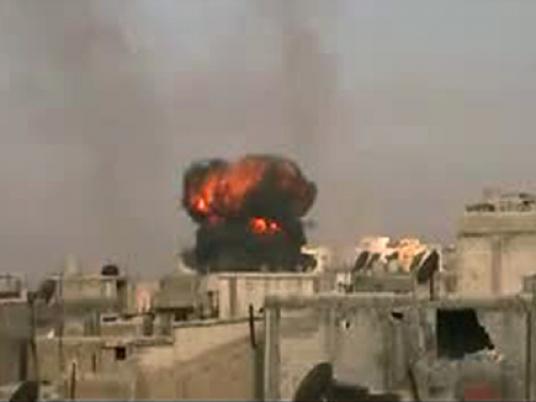 On Saturday regime forces killed 50 civilians in Syria, shelling a rebel stronghold for the 22nd consecutive day and opening fire in Hama and Aleppo, where thousands were rallying, monitors said.
Shelling of the Homs neighborhood of Baba Amr began at first light, the Syrian Observatory for Human Rights said, as sporadic explosions were heard in other areas of the central city.
Twenty-two people were killed in Baba Amr itself, the observatory said.
Twenty-three people were killed in Homs, 15 in Hammah and nearby villages, eight in Aleppo and four in Adelp, said opposition group Local Coordination Committees on its website. Those killed reportedly included five women and three children.
According to the committees, 99 people were killed on Friday nationwide as forces loyal to embattled President Bashar al-Assad bombarded the rebel-held Baba Amr, attacked villages and opened fire on demonstrators, as tens of thousands rallied across the country.
Red Cross and Red Crescent ambulances had entered the besieged district of Baba Amr on Friday and evacuated seven wounded Syrians, as well as 20 women and children.
Meanwhile, the Lebanese Red Cross transferred 10 injured Syrians to hospitals in North Lebanon on Saturday, Lebanon's National News Agency reported.
The wounded Syrians were moved into Lebanon via the Lebanese border town of Masharee al-Qaa.
The UN says more than 7,000 people have been killed in the crackdown on Syrian protesters who have been demonstrating against the Syrian Baath regime since mid-March 2011.
Thousands of Syrians have fled to Lebanon seeking refuge from the violence.