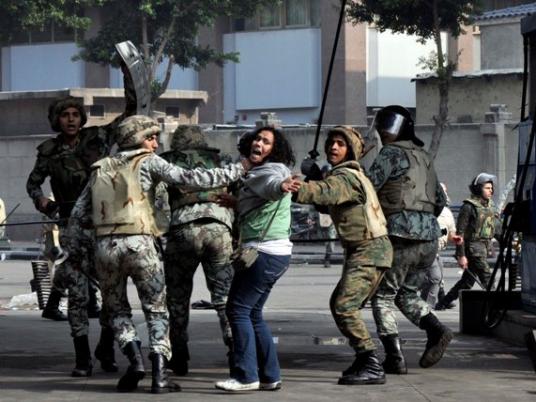 Tahrir Square appeared calm Monday morning following intermittent clashes between protesters and military forces after military and police forces launched an attack on protesters at 3:30 am.
Security forced the protesters into Talaat Harb Street and Abdel Moneim Riyad Square, but protesters managed to return to Tahrir and detain one soldier after pelting security officers with stones and Molotov cocktails.
The protesters kept the soldier at a field hospital until he was put in an ambulance. They said he had been chasing them to attack some protesters.
Protesters said the military attack led to the death of several protesters. An editor at Al-Masry Al-Youm said he saw at least two bodies, one of which had been shot in the head.
The protesters said one of those who died is named Adel Momen Nassar. They claimed that snipers were shooting at them from the roof of the Mugamma government building in Tahrir Square.
Activist Mostafa Fahmy said security fired cartridges and used tear gas when chasing protesters in Talaat Harb Street, injuring some activists.
Security forces advanced on the protesters from three directions, eventually besieging them in Talaat Harb, but the protesters managed to force their withdrawal soon after, activists said.
The army has erected a third separation wall of concrete blocks on Sheikh Rihan Street. The army had previously built two similar walls on Qasr al-Aini and Mohamed Mahmoud streets when clashes erupted in the area last month.
Meanwhile, protester Amr al-Sayyed, who was arrested Saturday in clashes at the cabinet of ministers, died in detention awaiting questioning from the South Cairo Prosecution.
Activists have said another two protesters died on Sunday, bringing the death toll from the clashes, which erupted Friday, to about 13.
Meanwhile, in a statement released Monday, the Ministry of Health said the total number of those who died in the recent clashes is 11. It also said that one protester died on Monday, without giving details about his death.
Translated from Al-Masry Al-Youm