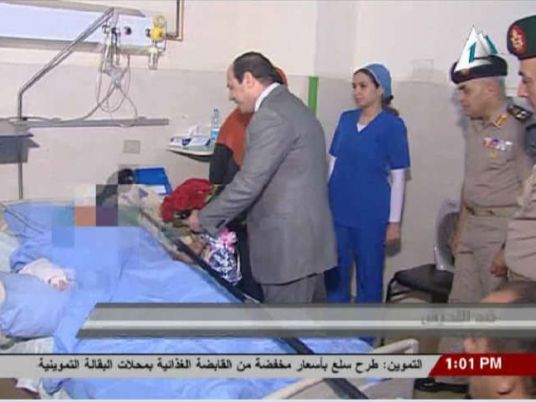 Judicial sources said on Wednesday that the public prosecutor is receiving the forensic report of the woman that was sexually assaulted in Tahrir Square on Wednesday in order to send the seven suspects of the case to a criminal court on Saturday on charges of rape at gunpoint.
Prosecutor General Hisham Barakat opened extensive investigations with officials of the Health Ministry as the victim claimed the public hospitals of Mounira, Zahraa and Kasr El Aini refused to admit her.
Prosecutors took the testimonies of the assistant health minister for therapeutic medicine and the ambulance driver and paramedics about the hospitals allegedly refusing to treat her.
"We will not hesitate in taking legal action against harassment to protect the constitutional rights of women," Barakat said in a statement on Wednesday.
Police officers and 25 eyewitness that saw the assault on the woman and her daughter testified that they saw the defendants taking off their clothes and trying to sexually assault the woman. The officers added that they finally managed to free the woman from the grasp of the defendants.
Officer Mostafa Thabet, who saved the woman, said that the defendants did not stop although the police fired shots in the air, and that one of them continued to assault her while the police was pulling him back.
The prosecution is also awaiting videos of the incident that were posted on the Internet and blood samples to determine if the defendants were on drugs.
Edited translation from Al-Masry Al-Youm
*Correction: The translation of the victim's attack was changed from "harassment" to "assault" to more accurately depict the attack that unfolded.