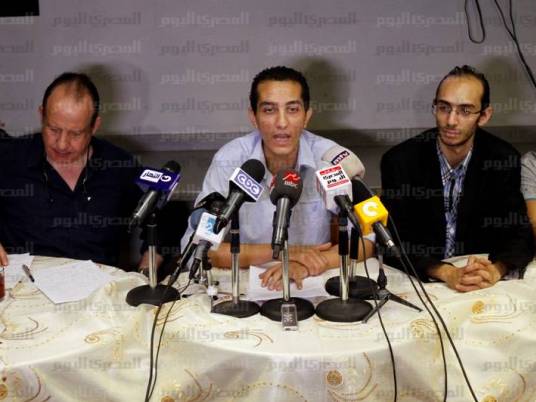 Tamarod campaign members in Beni Suef have announced in a statement that all of them have submitted collective resignations, citing feelings of disconnect from the larger movement.
Ahmed Gabr, the campaign's general coordinator in Beni Suef, said all of the resigned members and executive bureaus across villages and cities of the governorate will go on to serve the country and people, adding that they do not belong to Tamarod any more starting today.
Gabr attributed the collective resignations to what he considered as marginalization of all executive bureaus in Beni Suef and keeping them away from decision making. "Since the first day, we have been receiving decisions from the [Facebook] official page of Tamarod not as participants in making them."
He also criticized the campaign for the "decentralized decision making, especially the crucial ones." "The campaign's central committee itself has become an expeller for its members who sought developing it without causing frequent deviation of Tamarod, represented at the recent initiative of 'write your constitution'." Gabr considered the campaign as a media one that has become unreal, unlike it was before 30 June.
Gabr said that they, along with other members of executive bureaus at several governorates, were just 'postmen' who collect signatures of citizens without having an effect within the campaign. This has led to the collective resignations of the members and coordinators at different governorates. Some of them launched the 'Only-Egyptian Tamarod', while others from within the central committee, formed the 'youth parliament', which urged the committee to deny links with them.
The pre-30 June Tamarod was an idea that united the Egyptians, Gabr said. After 30 June they became the 'group of the central committee'. It also didn't have clear direction toward Hazem al-Beblawy's cabinet, which failed to achieve aspirations of the people after 30 June revolution.
Last week, 13 members of Tamarod in Assiut submitted their resignations.
The campaign was originally formed with the target of collecting signatures to withdraw confidence from deposed President Mohamed Morsy by 30 June 2013, which marked the first year anniversary of being in office. It is represented within the 50-member constitutional committee, in charge of amending the 2012 suspended constitution.
Edited translation from Al-Masry Al-Youm