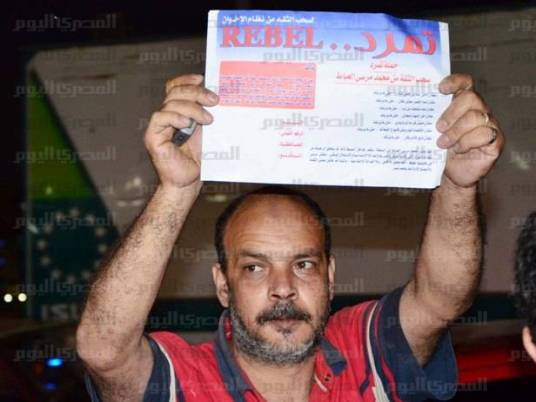 Ahmed abdel Zaher, member of the executive bureau of Only-Egyptian Tamarod, said 13 leaders and dozens of members in Assiut submitted their resignations from Tamarod. The Only-Egyptian Tamarod had previously split from the main Tamarod campaign in Cairo.
A large number of members in Sohag will submit collective resignations, he added. "The main Tamarod in Cairo has intended to marginalize members and leaders in Upper Egypt, especially [the cities of] Assiut, Sohag and Minya. The Democratic Egyptian Party emptied all of its headquarters at the governorates for Tamarod to gather its petitions," abdel Zaher said. He accused Tamarod of trying to control the entire movement.
Dissident members had launched a new campaign called "Only-Egyptian Tamarod" to preserve Tamarod's popularity and resume the 25 January and 30 June revolutions. Only-Egyptian Tamarod does not belong to any political party.
Meanwhile, Alaa Hakim, coordinator of Tamarod in Assiut, submitted his resignation saying that the campaign's popularity declined and that its role was over.
However, Tamarod announced in Assiut that what has been said by former executive bureau members on social media platforms is an unreasoned attempt to remain in their posts.
The campaign's general coordinator, Ahmed Ammar, said the establishment of the Tamarod movement and a new executive bureau has been announced in governorates across Egypt.
Ammar also denounced smearing attempts by former members ahead of leaving.
Edited translation from Al-Masry Al-Youm