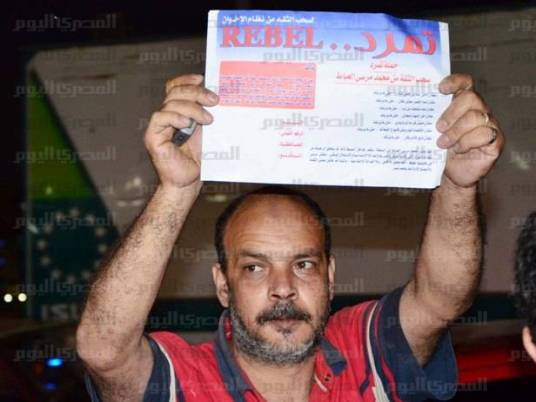 The anti-Morsy Tamarod campaign has collected over 22 million signatures to withdraw confidence from President Mohamed Morsy and hold early presidential elections.
The campaign called on the Egyptian people to assemble on Sunday in Tahrir Square and in front of the Ettehadiya Presidential Palace to rally for this cause.
Tamarod, which means "rebel" in Arabic, held a press conference to announce the latest numbers and to lay the road map for the 30 June protests. The conference started with the national anthem, followed by a minute of silence mourning the martyrs of the revolution.
During the conference, Shura Council member Nadia Henry announced that she and the other secularist members of the council were resigning.
Tamarod described the 30 June protests as another wave of the revolution that started on 25 january 2011.
"Today millions of citizens have rebelled against the tyranny of the Muslim Brotherhood," and Egyptians are "on their way to achieving their goals of bread, freedom, and social justice."
Tamarod's spokesperson expressed his gratitude to the Egyptian people for believing in the campaign, adding that Tamarod "is no longer the property of its founders, but of Egyptians in every village and street."
"You are making history," he addressed Egyptians. "The time for overthrowing a
regime that sold [the revolution] to the [Muslim Brotherhood's] Guidance Bureau
has come. It is the time for retribution for the blood of Jika, Husseini Abou Dief, and Christie, as well as the other martyrs."
The statement stressed that "Morsy has lost legitimacy after millions of signatures calling for his removal were collected, and after he refused to respect the Constitution and the law."
Tamarod accused Morsy of "not working in the interests of the people, but in the interests of the [Muslim Brotherhood] family. He is no longer a president because he is a murderer."
The statement emphasized that protests against Morsy should be peaceful.
Edited translation from Al-Masry Al-Youm