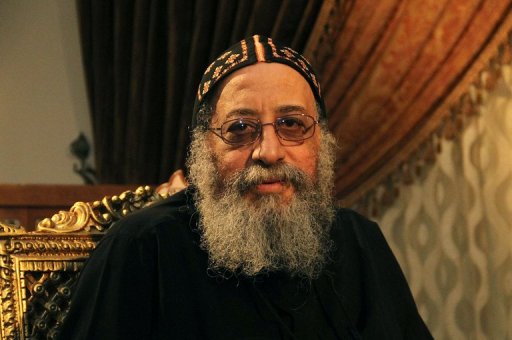 The displacement of Egypt's Coptic population is unacceptable, hateful, and tarnishes the nation's international reputation, the newly-elected patriarch of the Coptic Orthodox Church, Bishop Tawadros II, said Monday.
In an interview with the privately-owned ONTV Live TV station, Tawadros said it is the role of the state to protect its citizens, and Copts are in need of reassurance from the government on many issues.
"We live in a society where there are rights and duties," Tawadros said, adding that there needed to be more education about sectarian strife and the need to respect others in schools, families and in the media.
Egypt saw sporadic bouts of sectarian violence in Alexandria, Dahshur and Rafah last month, where Coptic families were threatened by Islamist militants and forced to leave their homes.
Nearly 15 Coptic families had reportedly abandoned their homes in Rafah in September after unknown persons posted flyers demanding that they leave. Later, an unknown assailant fired at a Coptic-owned store. Acting Pope Bishop Pachomius, condemned the events.
Since the overthrow of former President Hosni Mubarak in February 2011, several sectarian acts of violence have targeted Coptic churches in different parts of the country.
Tensions grew during the transitional period as Islamist parties criticized the church for allegedly mobilizing the Copts to elect Ahmed Shafiq in the presidential election run-off. The church has also expressed reservations about the Islamist-dominated Constituent Assembly that is tasked with drafting the new constitution.
In October 2011, military police suppressed a march outside the state television building in Maspero to condemn an attack on a church in Aswan. Video clips showed armored army vehicles running over mostly Coptic demonstrators.
Comprising six to 10 percent of Egypt's population of 83 million, Copts allege they face discrimination at all levels of social and political life, including being restricted from building churches, being passed over for senior positions and being subject to repeated attacks from Islamist militants.
Edited translation from Al-Masry Al-Youm