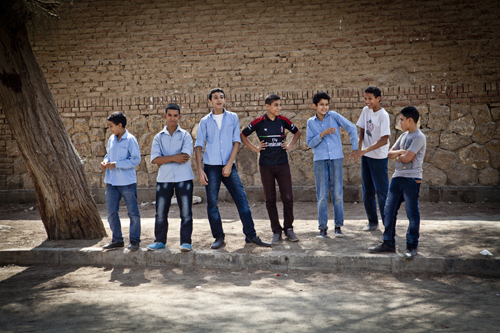 A teacher in Aswan on Sunday dealt a student a strong slap on the face, accusing him of intentionally bumping into her.
The teacher at al-Orouba secondary school hit the student in front of his and her colleagues when he came to apologize for accidentally jostling her. The blow caused the student's glasses to fall on the ground, and the school's board expelled him for three days, with a permanent dismissal warning.
The student's mother, Sabrine Sayyed, registered a complaint at Aswan's prosecution office, accusing the teacher of assaulting her son. She added that her son had been awarded several certificates of appreciation for his educational performance and ranks third on the school's excellence chart.
Egyptian media have recently reported several violations by teachers against their students.
Education Minister Moheb al-Rafey was quoted on Sunday as saying that the current punishment of a temporary, seven-day dismissal for students' violations against their teachers is not sufficient for restoring "teachers' dignity", adding that his ministry was considering permanent dismissal as an alternative.
Edited translation from Al-Masry Al-Youm