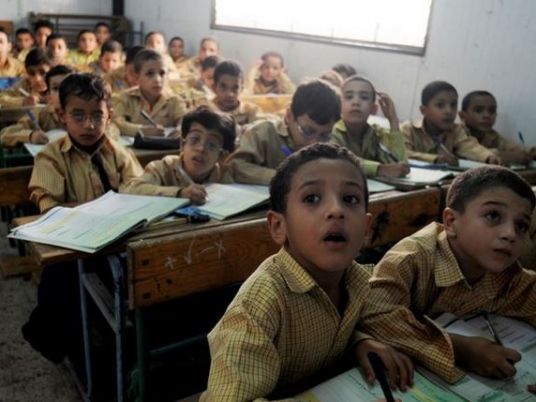 "History is written by the victors" is a well-known quote in the literary field and among the intelligentsia, reflecting a reality that — though so clear for many years — is still not recognized by many.
That said, the omission of Egypt's former vice president and former IAEA director Mohamed ElBaradei from the list of Egyptian Nobel laureates in fifth-grade textbooks was not the first instance of state interference in history as taught to the country's students.
Going back in memory, Mohamed Naguib, the first president of the Arab Republic of Egypt, was removed from textbooks after his removal from office in April 28, 1954.
"He was done much injustice by history writers in Egypt when his name was removed from school syllabuses, as some attempted to erase his nationalist history," Mohamed Tharwat wrote in his book "A Witness to President Mohamed Naguib's Era."
At that time, textbooks referred to Naguib's successor, Gamal Abdel Nasser, as the first president of the republic following the July 1952 revolution. Naguib, however, made it back onto the pages of history under the government of former President Hosni Mubarak.
Speaking to al-Monitor two years ago, educational expert Kamal Mughith said that, even before the republic was founded, textbooks used to glorify the Mohamed Ali dynasty. It was after the 1952 revolution that school books began to tackle "corruption" by Egypt's last monarch, King Farouq. The king's son, Ahmed Fouad, was "deeply affected" by the negative narrative, as he told Dream satellite channel in March 2015. In the same month, former education minister Moheb al-Rafie ordered "the whims and scandals" of King Farouq to be removed from high-school history books.
According to Mughith, under Nasser, syllabuses were focused on the "legitimacy" of the 1952 revolution. They later shifted to the 1973 war with Israel under Anwar al-Sadat, which was also diminished under Hosni Mubarak to refer to the president's role as an air force commander during the war, ignoring indispensable roles played by other military commanders.
The 2011 uprising that toppled Mubarak also had a fare share of modifications by history writers. After the uprising, the ministry removed various lessons referring to Mubarak, amounting to one whole chapter in one case. The chapter was dropped for its "propagandistic, rather than scientific, account of Mubarak's reign." Other sections were also removed for highlighting "achievements" by Mubarak's wife, Suzanne Thabet.
Meddling with history did not stop under Mubarak's successors, the Muslim Brotherhood. With the group's Mohamed Morsi in power, Arabic–language textbooks for first-graders included references to "Brotherhood members as builders of humanity" and a "route to progress". Changes even extended to syllabuses at the Police Academy, where a whole section from the second year's "Contemporary Terrorism" text was omitted for labelling the Brotherhood as a foreign-funded terrorist organization.
With Morsi removed in a 2013 revolt, history books were once again rewritten, telling high-school students of how the Muslim Brotherhood government "practiced power the same way their predecessors did," and how it categorized its opponents as "disobedient anarchists who deserve punishment."
In the updated version, "People did not take long to realize that they [the Brotherhood government] failed to offer any solution to major problems, or to meet popular demands for freedom, dignity and justice."
Edited translation from Al-Masry Al-Youm