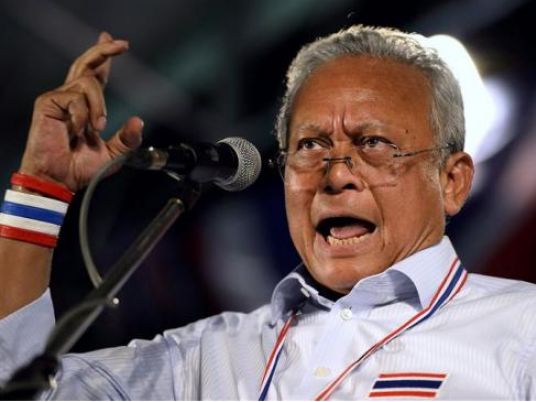 Thailand's prime minister urged anti-government protesters Wednesday to vent their anger against her at the ballot box, insisting that elections were the best way to solve the country's deepening political crisis.
Prime Minister Yingluck Shinawatra has faced weeks of mass street demonstrations seeking to force her elected government from office and install an appointed "people's council" in its place.
The protesters aim to rein in the political dominance of Yingluck's billionaire brother, fugitive former premier Thaksin Shinawatra, whom they accuse of controlling the government from self-exile.
Yingluck hosted talks Wednesday to discuss a proposal by the country's election commission to postpone the polls, but the opposition as well as the kingdom's election commissioners — who are in theory independent — refused to attend.
While she did not completely rule out a delay, Yingluck reiterated her concerns that the constitution does not allow a postponement of the 2 February polls.
"If people don't want this government they should go out and vote," she said.
Many of her opponents, who include much of the country's royalist establishment, do not want the February polls to go ahead, fearing they will only return the Shinawatra family or its allies to power.
They say electoral reforms are needed before a vote is held in at least a year's time, but deny they are seeking to suspend the country's fragile democratic system.
Defiant demonstrators vowed to keep up their efforts to oust the prime minister with their self-styled "Bangkok shutdown" by occupying key intersections in the city.
Tensions flared overnight after two people were slightly wounded in a shooting by unknown gunmen at an anti-government rally in Bangkok's commercial district, while a small blast shook a house owned by the opposition leader's family.
"The two incidents are a signal that the people's revolution has almost succeeded," rally leader Suthep Thaugsuban told reporters as he led a march through upscale neighbourhoods of Bangkok.
Provocateurs a common tactic
Armed provocateurs have a history of trying to stir tensions in the politically polarised kingdom, and several people — including a policeman — have been killed by unidentified assailants since the protests began more than two months ago.
Late on Tuesday a small bomb or a firecracker was hurled at a house belonging to the family of opposition leader Abhisit Vejjajiva, a former prime minister who faces a murder charge for a deadly military crackdown on street protests when he was in office in 2010.
Protesters blocked key intersections in the capital for a third straight day, but there was more traffic on the roads, in a possible sign that the attempted "shutdown" was losing momentum.
Rally leader Suthep was greeted by crowds of supporters — many of whom handed over fistfuls of banknotes to help fund the rally — during his march through wealthy residential areas of Bangkok on Wednesday.
The firebrand opposition politician even threatened Tuesday to take the prime minister and several cabinet ministers captive if they do not resign.
While he is renowned for his blustery rhetoric, the threat reflects an air of impunity surrounding rally leaders who have not been detained despite warrants for their arrest.
Deputy Prime Minister Surapong Tovichakchaikul said in a televised address Wednesday he had urged the police to "quickly arrest Suthep and his aides otherwise our country will fall into anarchy".
The main protest movement has distanced itself from a threat by a hardcore anti-government faction to seize air traffic control or the Thai stock exchange.
The rallies were triggered by a failed amnesty bill that could have allowed Thaksin to return despite a jail term for a past corruption conviction.
The tycoon-turned-politician has strong electoral support in northern Thailand, but he is reviled by many southerners, Bangkok's middle class and members of the royalist establishment.
His "Red Shirt" supporters, whose mass street rallies against the previous government in 2010 were suppressed by the military, said the current protest leaders were not genuine about wanting reform.
"Whoever wants to board Suthep's train please be aware that it will derail and fall into a ravine," said Red Shirt leader Thida Thavornseth.