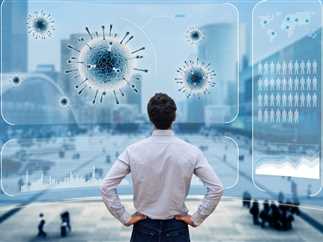 There is a new wave of coronavirus that the whole world is witnessing, Mohamed Awad Tag Eddin, Adviser to the President of the Republic for Health and Prevention Affairs, said, adding that Egypt has been witnessing an increase in cases during the past ten days, which meant a new wave.
Tag Eddin added, during a telephone interview with the "Good Morning Egypt" program, broadcast on the Egyptian Channel One and the Egyptian Satellite Channel, that the symptoms of coronavirus are similar to many symptoms such as cold.
He pointed out that the Omicron mutant has  between 85 percent and 90 percent of its symptoms very simple and similar to a cold, and do not affect the lower respiratory system or lungs much, but rather focus on the upper respiratory system.
He stressed that 90 percent of the symptoms lie in sore throat and some inflammation in the throat, coughing, sneezing, cold, cracking of the body and high temperature, but minor symptoms are also annoying, and the patient may complain about them for five days.
He also stressed the importance of adhering to the precautionary measures, in order to avoid infection with the virus, in light of the increase in the number of infections in the past period.
He pointed out that there is an increase in infections among family members, there are families with infections between more than one person. He instructed isolation to prevent infection of the rest of the family.