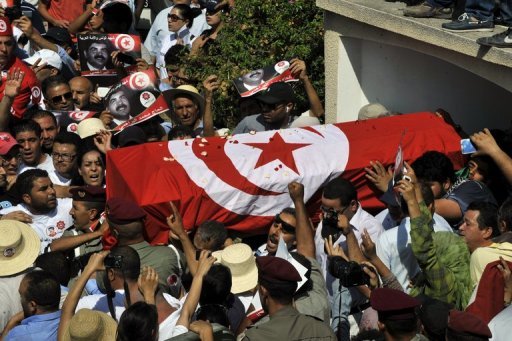 Thousands of supporters of Mohamed Brahmi followed the body of the slain Tunisian opposition leader under armed escort on Saturday ahead of his burial, an AFP correspondent reported.
Wrapped in the red and white Tunisian flag, Brahmi's coffin left his home in the Tunis neighbourhood of Ariana shortly before 10:00 am (0900 GMT) en route to El-Jellaz cemetery.
The supporters of Brahmi, who included members of his family, took part in the procession, in the absence of representatives of the government led by the Islamist Ennahda party.
Brahmi, 58, was shot dead outside his home on Thursday with the same weapon used to gun down fellow opposition politician Chokri Belaid in February, Interior Minister Lotfi Ben Jeddou said.
He was an MP with the leftist and nationalist Popular Movement but quit the party he founded on July 7 saying it had been infiltrated by Islamists.
Brahmi's widow Mbarka told AFP he would be buried next to Belaid, the leftist politician assassinated in February whose funeral was attended by tens of thousands and turned into a protest against Ennahda.
The families of both men have accused Ennahda of being implicated in the deaths, but the authorities said Friday that the investigation pointed to extremists with links to Al-Qaeda.